Sphere 3D has had two offers to buy parts of its business
Overland and Tandberg could be headed for new ownership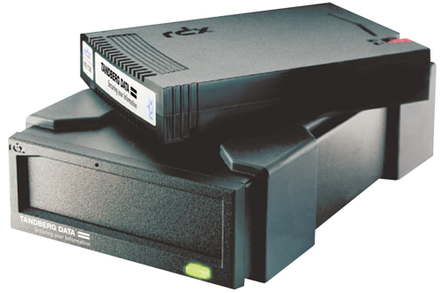 +Comment Sphere 3D, the Canadian company which owns Overland Storage and Tandberg Data, has had two offers for parts of its business.
The perennially loss-making concern, which was previously Overland Storage, which bought Tandberg Data, has never recovered from the decline in tape automation products. It received a first offer, a formal, non-binding expression of interest for the purchase of one of its assets, in September this year. At the time it announced it was exploring this as well as other options to increase shareholder value.
Now it has received a second offer, an unsolicited proposal for certain of its assets, from a different potential buyer. It says it will evaluate this one as well and, at the appropriate time, will retain financial advisors to provide valuation and other guidance. Meanwhile, Sphere 3D tells us in a release, "As the Company reviews the proposals, it remains focused on executing its strategic plan and achieving profitability."
+Comment
We doubt whether the strategic plan is focused on Sphere 3D selling enough products to be profitable with the current costs it has. This plan has to be set against the fact that Overland Storage/Sphere 3D hasn't had a profitable quarter at least since fiscal 2013, 15 quarters ago. Its fundamental problem is that its costs are too high relative to its product sales, and the acquisition of Tandberg Data and takeover by Sphere 3D hasn't altered that, despite each move being a supposed driver, at the time, of regaining profitability.
A revenue and net income chart shows the dismal story: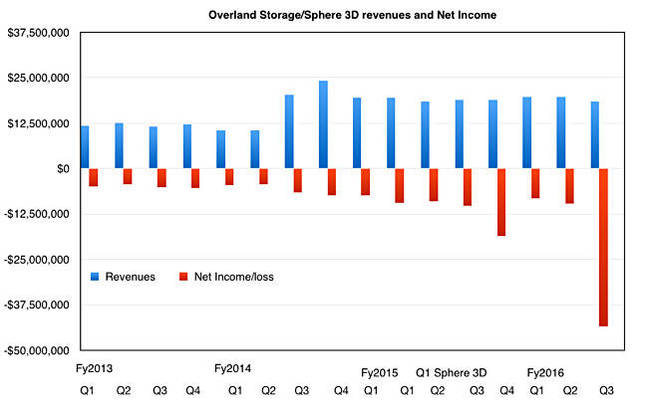 Overland Storage/Sphere 3D results to the third q2016 quarter.
The big loss in the third 2016 quarter, shown in the chart above, is due to a $34.8m goodwill impairment. CFO Kurt Kalbfleisch commented in the earnings call: "During the third quarter, as a result of declining market capitalisation driven by our lower share price, it was determined that carrying value [of goodwill and intangible assets] exceeded its estimated fair value. This is a non-cash charge to the income statement."
So selling off assets to increase shareholder value is probably a realistic thing to do.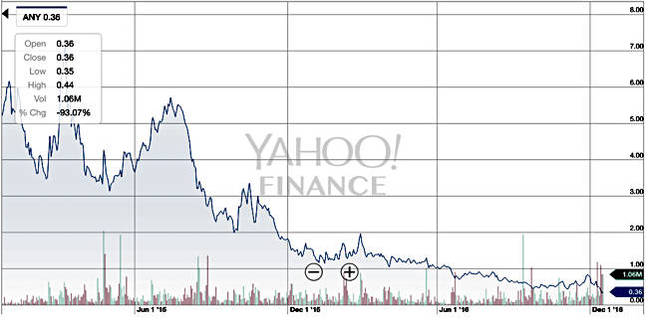 Sphere 3D Share price over two years. (Source: Yahoo finance)
The shares are currently trading at $0.36; they were $6.00 in December 2014. Management is positive on the prospects for its virtualisation (Glassware) business and also its legacy tape protection and disk storage products, but then this management has always been positive on the prospects for its business. So far, looking at revenues and net income, it has reliably under-achieved. ®