Christmas cheer for KCL staffers with gift of extra holiday after IT disaster
And no, it won't be possible to take pay in lieu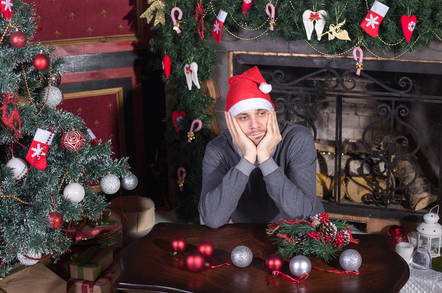 Exclusive 'Tis the season to be jolly at King's College London, where staff have been offered extra holiday in recognition of their response to the university's IT disaster.
Not too jolly, of course. It won't be possible to take pay in lieu of the extra two days, although staff aren't sniffing at the offer.
An email sent from KCL's president and principal Edward Byrne — which was seen by The Register — acknowledged that "the last few months have been difficult at King's."
That's no understatement. Back in the halcyon days of October, departments across the university suffered "irretrievable data loss" after a one-fault-tolerant RAID Array kicked the bucket. Almost every IT system at the university, from payroll to shared drive access, went down, and it took over a fortnight for those systems to be restored — and for backups holding non-repeatable research data to be found well and truly borked.
KCL's response wasn't particularly impressive. Staff were reminded that they were forbidden from making their own backups, and when the university copped that the lost data was irretrievable, staff were offered counseling and prayers to help them cope with the set-back. Fortunately, and very much in the spirit of the season, the powers-that-be at the university are now offering a somewhat more material service to staffers.
"The IT outage in October had an impact right across the university and some of our colleagues are still feeling that impact even now", wrote a reflective Byrne, who continued to explain how he wanted to express his "sincere sympathy to everyone affected" and continued:
[In] recognition of the magnificent way in which our people have risen to the challenge, as a small token I would like to offer every member of staff an extra two days off work (pro rata), to be taken by July 2017. These days may be taken at a time of your choosing, in agreement with your line manager. But please do take up the offer as it won't be possible to take pay in lieu for these days. 
Sympathy aside, Byrne encouraged researchers to retain some sense of perspective, offering them his best wishes for the festive season, and stating: "Our thoughts will, I am sure, be with the many people who do not have friends and family to support them or who are suffering from the dreadful effects of war elsewhere in our world." ®