Speaking in Tech: Right, he's smacked the journos. Now Trump's called the techies in...
Plus: Visual Basic in 21 days?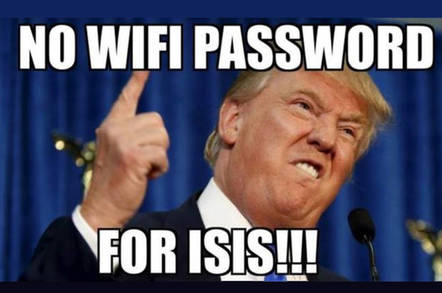 Podcast

This week on our techcast, Mark Twomey (aka Storagezilla) joins Greg, Ed and Peter to discuss cloud boomerangs, Donald Trump, coding schools and mobile markets.
The details…
(0:00) Storagezilla returns!
(1:08) Digging in on big changes at Dell
(6:20) Flight attendants and phones
(9:20) Texts from Ed
(10:48) Tech leaders run to Trump
(14:05) Notification hell
(18:48) Survey: 62% return from cloud
(29:12) Cloud computers… for developers
(35:27) The failure of coding schools
(41:04) Fair Air
(46:18) Zilla's movie recommendations
Listen with the Reg player below, or download here.
Podcast Subscriber Links
Subscribe through iTunes
Subscribe through Google
Subscribe through Stitcher
Feed URL for other podcast tools - Juice, Zune, et cetera: http://nekkidtech.libsyn.com/rss