Kentucky pried chicken: Fried grease chain's loyalty club hacked
Not so finger-lookin' good now are we, Colonel Sanders?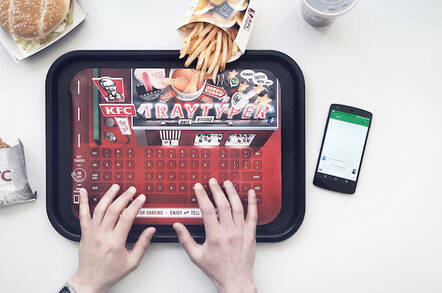 Anti-artery campaigners KFC have urged 1.2 million customers in its Colonel's Club loyalty scheme in the UK to ditch their account passwords for new ones after its site was hacked.
The club includes an app that lets fried grease fans login and collect Chicken Stamps to "earn ... free food rewards." Today, KFC sent an email urging tragic drumstick addicts to overhaul their login details as their credentials, along with any personal information stored with their club account, may have been lifted by miscreants.
"Our monitoring systems have found a small number of Colonel's Club accounts may have been compromised as a result of our website being targeted," the email added.
"Whilst it's unlikely you have been impacted, we advise that you change your password as a precaution. If you use the same email address and password across other services, you should also reset them, just to be safe."
Only about 30 of the 1.2 million members had been targeted, but KFC decided to inform everyone, the biz told ITV News. It did not store credit card details in the reward scheme, so no financial information had been stolen, KFC added.
The email added that the Colonel was very "sorry for any inconvenience" caused and KFC was shoring up its database defences against the dark arts.
"As this type of problem is becoming more common online, we've now introduced additional security measures to further safeguard our members' accounts and to stop this kind of thing happening again." ®
Updated on 13 December, 11.18am GMT to add: Brad Scheiner, Head of IT at KFC UK & Ireland said: "We take the online security of our fans very seriously, so we've advised all Colonel's Club members to change their passwords as a precaution, despite only a small number of accounts being directly affected. We don't store credit card details as part of our Colonel's Club rewards scheme, so no financial data was compromised."
Sponsored: Detecting cyber attacks as a small to medium business