UK.gov has outsourced tech policy to Ofcom because it is clueless – SNP techie
Says IP Act and data-sharing bit in Digital Economy bill could create 'world of pain'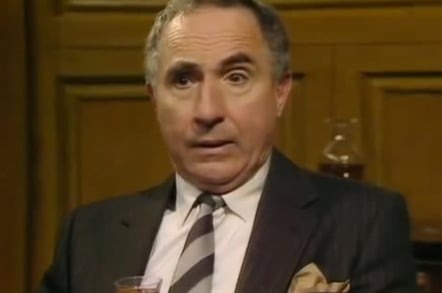 The UK government has effectively outsourced its policy-making to Blighty's comms watchdog Ofcom because MPs are clueless about telecoms and technology. That's according to Calum Kerr, the Scottish National Party's spokesperson for digital stuff.
Speaking to The Register, Kerr also accused the government, BT and Ofcom of forming an "unholy alliance" in deciding that the £1.7bn tax-funded rural broadband programme had been a "huge success."
"I'm not saying it was all bad, but it's certainly not how I would have planned it," said Kerr.
He said that by its nature the regulator was cautious, and a more informed Parliament could allow it to make bolder, more creative decisions about the market.
Earlier this month Ofcom made the decision to push ahead with its plans not to structurally separate Openreach from BT.
"I have a real worry now that the government has a propensity to outsource its policy making to Ofcom. Maybe that's because they are uncomfortable with the subject, or because it is easier for them and someone else takes the rap.
"I think there should be more of debate as to what Ofcom's role is."
Unlike most MPs, Kerr has a background working in the sector, having spent 10 years at telecoms company Nortel - before it was bought by Avaya following its bankruptcy. He became an MP last year.
Kerr concedes he does not have deep technical knowledge "but in the land of the blind, the one-eyed man is king, so in here I probably have more than most."
He became SNP digital spokesman after a particularly fruitless debate on broadband, which he left after half an hour.
"I was so depressed at the level of contribution - it was phenomenally tokenistic. It was just everyone standing up and saying 'BT is terrible, broadband is appalling'.
"And then it got so farcical that people started cheering every time somebody mentioned a village, or a town, or a business... so they were basically ticking all the boxes and they could all go back to their constituents and say: look I raised the subject of broadband for my constituency in Parliament."
"So I went back to Angus Robertson [deputy SNP leader], and I said: 'Please tell me this isn't what my job is, where that is what I do all the time'."
Kerr says he was subsequently given the digital brief, through which he wants to find practical suggestions for addressing poor connectivity.
One such effort was a recent suggested amendment to the Digital Economy Bill to include a voucher scheme for the government's 10Mbps universal service obligation.
But despite the move having the backing from industry bodies for smaller network providers, it was ignored and waved through the House of Commons.
Kerr has also called for the scrapping of the section in the Digital Economy Bill that includes greater government data sharing, echoing concerns of digital rights groups that it has not been thought through and is potentially dangerous.
That suggestion has also been ignored.
But he says the government's self-appointed right to see users' browsing history in the IP Act, combined with government departments being able to more freely share our data, could "leave us in a whole world of pain if an authoritarian government gets in to power".
He believes both pieces of legislation were waved through because MPs are so clueless about technology.
"There is a lack of knowledge, which means a lack of debate. Policy doesn't get debated properly or challenged.' ®