Oz gummint's 'open government' strategy arrives at last
The good, the bad, and the Ctl-C, Ctl-V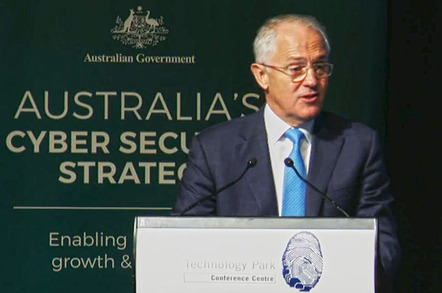 A couple of days after being warned it was dragging its feet on open government strategies, the Federal Government has released its Open Government National Action Plan.
A couple of days ago, the government had its attention sharpened by a warning that it would get kicked out of the OGP process if it didn't get cracking (from SBS, here).
The action plan reiterates the government's belief that banning research into anonymity technology is a good thing. The action plan says telling the public their data is badly protected will harm confidence that their data is protected.
To quote from the report:
"Australia will build public trust around data sharing and release. We will do this by actively engaging with the public regarding how open data is being used to better communicate the benefits and understand public concerns, and we will improve privacy risk management capability across government."
In the same section of the report, the government's Privacy Amendment (Re-Identification Offence) Bill 2016 is cited as helping manage privacy risks.
Perhaps the government has gauged the national mood accurately. In spite of the dangers of the research ban, the bill's only received two submissions, so it seems nobody either understands or cares.
More encouragingly, the government also mentioned its data breach notification bill as an improvement, which it will be if it ever gets to a vote (data breach notification has been a feature of parliamentary calendars for years).
Whistleblower protections are set to be improved, however, as a result of a Senate cross-bench deal with the Nick Xenophon Team.
Ctl-C, Ctl-V policy development
The government's AU$90-million-a-year Digital Transformation Agency (DTA), gets a mention in the strategy. It's been detailed to work "with government agencies to deliver a roadmap for the digital transformation of government services with clear milestones, including delivery timelines and key performance indicators".
That's an interesting choice of words for a formal government strategy, since it's plagiarised taken almost word-for-word from the Liberal Party's 2016 election platform.
Perhaps the OGP warning sent someone scrambling for the Ctl-C, Ctl-V to fill in the blanks?
The action plan also pimps the DTA's "dashboards" again, saying they'll make government agency performance benchmarks more transparent (when they arrive; the dashboard's in Version 3.0 without kick-starting a golden era of Good Government™).
The action plan promises a whole-of-government transformation roadmap will be delivered by April 2017.
If it happens, the government's promised information management and access reforms – focussed on FOI and government archives – will be a welcome improvement. Consultation is set to continue for some time, since that part of the strategy has a July 2019 end date, but the commitments include better FOI education, and work on making government information (particularly archives) more discoverable.
There's no mention, however, of whether the National Library of Australia will be funded to that effect – the national action plan cites its Trove as a successful portal, without mentioning that it's so starved of funds it's no longer adding new material.
Other key points in the plan include:
A motherhood promise to look at electoral donations laws, but on the upside a better "national integrity framework" to tackle corruption, and a more open government contracting regime (Vulture South bets "commercial in confidence" will remain a magical incantation); and
A promise to create multi-stakeholder forums to involve the non-government sector in implementation plans.
The action plan continues the pro-data-release theme that emerged in this year's Productivity Commission inquiry into open data.
The section on data release prioritises:
"Identifying and prioritising high-value datasets for priority release;
Understanding how Australian businesses and not-for-profits are using public data;
Stimulating use and re-use of public data in innovative ways;
Encouraging the use of public data to create social value;
Identifying and addressing barriers impeding the sharing of and access to data; and
Fostering a dialogue on how public data can be made more useful."
The government's consultations on what constitutes "high value" datasets will continue until December 2017, with a registry of datasets to land on data.gov.au between December 2017 and July 2018. ®