NASA spunks $127m on SSL-powered robot to refuel satellites in space
That's not the SSL you're thinking of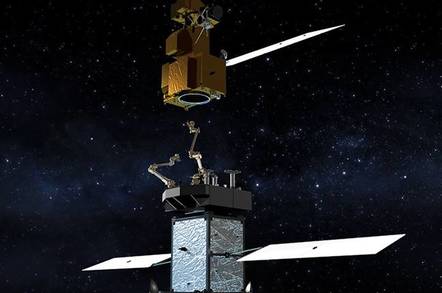 SSL (previously Space Systems/Loral) has won a contract to build a robot capable of refueling satellites in orbit, whether or not they have been designed to get more fuel.
There are already scores of satellites in orbit that are useless due to lack of fuel, and NASA wants the ability to refuel future orbital platforms without bringing them back down to Earth. The droid, dubbed Restore-L, is due to fly in 2020 and the $127m contract to construct the bot has now been awarded by the space agency.
"The contract has a firm-fixed-price and includes a three-year core period and a two-year indefinite-delivery/indefinite-quantity portion," NASA said.
"Space Systems/Loral will provide spacecraft bus, critical hardware and services for the development, deployment and operations of the Restore-L mission. They also will provide related services to accomplish mission integration, test, launch and operations."
The agency said that the Restore-L machinery should be capable of refueling satellites that haven't been designed for the job. Quite how this is done isn't specified, but NASA is also working on a universal fueling mechanism that can be used for a wide variety of different space platforms.
Until the EM Drive or something like it comes into being, satellites will always have to be refueled, if they are to stay in position. Certainly the military would be interested in such a scheme, and it has been mooted that the Air Force's X-37B mini-shuttle might be able to do this job.
"Restore-L's capabilities can give satellite operators new ways to manage their fleets more efficiently, and derive more value from their initial investment. These capabilities could even help mitigate the looming problem of orbital debris," NASA said.
"Successfully completing this mission will demonstrate that servicing technologies are ready for incorporation into other NASA missions, including exploration and science ventures. NASA also plans to transfer Restore-L's technologies to commercial entities to help jumpstart a new domestic servicing industry." ®
Sponsored: Detecting cyber attacks as a small to medium business