$17k win for man falsely accused of a terrible crime: Downloading an Adam Sandler movie
That's for his legal bills and court costs – not defamation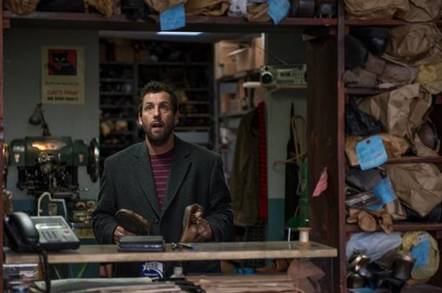 Hollywood lawyers have been ordered to foot more than $17,000 in legal bills after falsely accusing a bloke of illegally downloading and sharing the Adam Sandler flick The Cobbler.
Thomas Gonzales, of Oregon, US, was sued by legal eagles retained by the movie's makers on the basis that an IP address he paid for was being used to pirate the film via the BitTorrent network. Gonzales paid for the internet connection at a care home and it's thought one of the residents downloaded the movie.
The copyright lawyers recognized in previous court filings that Gonzales had been investigated for piracy after Comcast handed over his user information under court order. "Based on my conversation with Mr Gonzales, it does not appear that he is a regular occupant of the residence or the likely infringer," lawyer Carl Crowell told the US district court of Oregon, court documents [PDF] note.
But the lawyers went ahead anyway and pursued a case against Gonzales. They offered to settle the case for a small fee, if he accepted responsibility for the piracy, but he declined to do so, fought the case, and won.
Now he's asking for $17,222.40 to cover his legal fees, a court reporting fee of $252.20 and $12.40 in parking expenses. On Friday, Magistrate Judge Stacie Beckerman agreed with him that the lawyers should cough up the dosh.
"This Court has already highlighted its concerns with the litigation strategy pursued by Plaintiff and other plaintiff LLCs in the hundreds of BitTorrent cases filed in this district," she noted. "At least one other judge in this district has also expressed concerns about the motivation driving some of these cases."
Beckerman said that the copyright demand was part of a worrying trend where lawyers seek to wring funds out of defendants using the court system. She ruled that Gonzales was right to bill them for the 55.2 hours of lawyer's time he had paid for. Sadly the court can't rule on damages for accusations of being an Adam Sandler fan. ®
Sponsored: Becoming a Pragmatic Security Leader