Brit telco EE's ads banned for 'misleading' 4G speed claims
More prominent evidence needed to back up claims of 75% faster speeds than rivals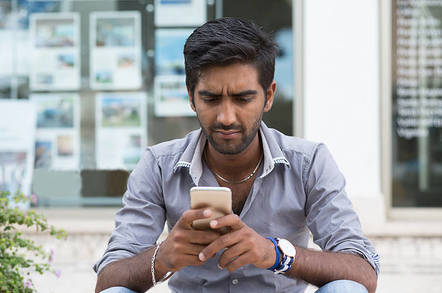 Brit mobile provider EE has had to remove a number of TV, homepage and press ads for advertising "misleading" 4G speeds.
Rival Three and two members of the public complained to the Advertising Standards Authority that a number of speeds claims made were misleading and questioned whether they could be substantiated.
On its homepage, EE claimed its 4G network is "50 per cent faster than any other" and on another page claimed to be "75 per cent faster than Three" and "more than 70 per cent faster than O2 and Three".
EE had based those claims on an annual award last given in October 2015 by Ookla, a third-party organisation that collected and analysed data from speed tests by consumers across the UK.
The Advertising Standards Authority found that from the tests submitted, EE's 4G network was generally at least 50 per cent faster than the other providers, during the defined test period.
The regulator considered that consumers reading the ad were likely to understand from the context in which the claim appeared that it related to an Ookla award.
It therefore did not uphold this complaint.
However, for the other claims that the company's speeds were more than 70 per cent faster, the ASA noted the text linked to the claim was in small type and consumers had to scroll to the bottom of the page to view it. Also, the page did not feature the Ookla logo.
"We considered therefore that the text was not sufficiently prominent to correct the initial impression that the claim was accurate when the ad was seen," said the regulator.
It ruled that the ads must not appear again in their current form. "We told EE to ensure their ads did not suggest that comparisons were accurate at the time the claim was published unless they held adequate evidence."
An EE spokesman said: "The ASA confirmed that our claim was 100 per cent accurate and that it was based on reliable, independent tests. The claim expired in October 2016, and the ad had been replaced before this ruling was confirmed. The ASA did, however, say that we should have made it clearer to customers that the claim was based on tests from a specific time period. We know the importance of being transparent about the network experience consumers can expect, so we will make sure our top independent network rankings and awards are presented more clearly in future." ®