Online advent calendar offers mystery VM every day until Christmas
QEMU serves up festive feast of OS images and oddities like Forth scripts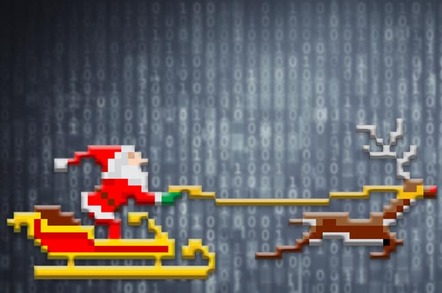 Here's something fun for Christmas: the folks behind the free and open-source hosted QEMU hypervisor have whipped up an online advent calendar that offers you a new virtual machine to download every day between now and Christmas.
The 2016 QEMU Advent Calendar kicked off last week with a download of the 56kb MikeOS, apparently a "16-bit real mode OS for x86-compatible PCs, written in assembly language, featuring a text editor, BASIC interpreter and much more."
On day three the surprise was FreeGEM, a GUI for DOS.
Come day five things got really obscure, in the form of a Forth script that plays the Tower of Hanoi game on top of Open Firmware.
We could say more, but doing so would spoil the many surprises in store between now and Christmas.
You can peer inside the virtual door of the calendar without having to download the daily offering, meaning the calendar won't result in unwanted downloads. Some of the gifts crack a few megabytes, but the site explains when you'll be in for a bigger download when, for example, the daily link is to an installer rather than just an image.
Well played, QEMU community: this is fun! ®
Sponsored: Becoming a Pragmatic Security Leader