Citizens Advice slams 'unfair' broadband compensation scheme
Suppliers get automatic recompense, punters get nowt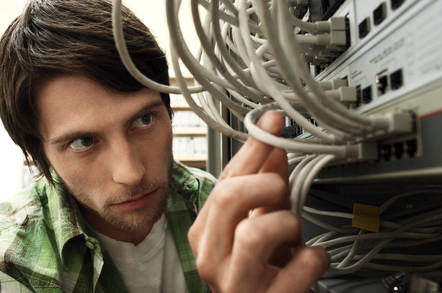 Consumer rights charity Citizens Advice has slammed the UK's broadband compensation scheme which fails to pass on compensation to customers.
Suppliers are typically paid compensation by Openreach for each day that there is a delay fixing a landline fault or setting up a new broadband or landline connection. But customers who have been inconvenienced can get nothing to make up for their losses.
Between April and September, just over 20 per cent of repairs (364,000) and 6 per cent of installations (281,000) carried out by Openreach were not completed on time, said the body.
"This means each week an average of 14,000 consumers and small businesses waited longer than they should for broadband and phone line repairs and a further 11,000 experienced late installations," it said.
Gillian Guy, chief executive of Citizens Advice, said: "It is deeply unfair that broadband suppliers are automatically compensated but customers have to fight for every penny.
"Companies are paid every time a broadband or landline repair or installation is delayed. But customers who bear the brunt of these problems have to fight for compensation from their broadband company – and may not get any."
The group is calling for this disparity to be addressed in The Digital Economy Bill, currently passing through the House of Lords.
A clause has been introduced in the Bill to hand regulator Ofcom power to introduce automatic compensation for consumers who receive poor service from their broadband provider.
Citizens Advice said it supports this change in the law and is calling for MPs to make sure customers get automatic compensation for delays as suppliers do.
It also wants Ofcom to set clear standards on when consumers would be entitled to compensation because of delays and how much they would get. This could work similarly to the £75 compensation people get from their energy company for delays when their electricity is not up and running again 12 hours after a power cut.
New analysis of 1,000 broadband problems reported to Citizens Advice reveals people are having to repeatedly negotiate with providers to get engineers out or receive any kind of financial compensation.
An Openreach spokesman said the business has made progress with customer service over the past year. "We've been exceeding the targets set by Ofcom and we're on track to halve the number of missed appointments we're responsible for to 2.5," they said.
He said around 80 per cent of our repairs are carried out within two days "but if we miss an appointment or fail to fix a fault within the agreed timeframes, then we pay compensation to our service provider customers automatically".
"We are sorry where people have suffered or are still suffering service problems. Openreach does get things right the vast majority of the time – and managing more than 20 million broadband connections is not a simple task – but improving service is our number one priority."
A BT spokesman said: "We recognise that this is an important issue and we plan to proactively introduce automatic compensation in 2017." ®