US axes $722m takeover of chip biz by Chinese investors. Thanks, Obama!
National security fears spark executive order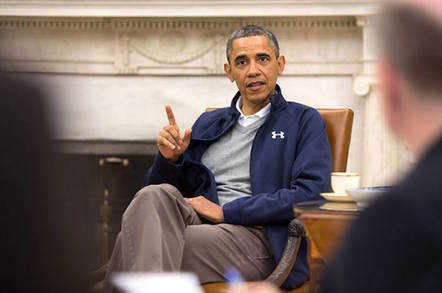 President Obama has issued an executive order to kill the proposed acquisition of semiconductor specialist Aixtron by Chinese investors.
The White House on Friday put out the presidential order citing national security concerns in denying the $722m buyout by Aixtron SE by Grand Chip Investment GMBH.
The order suggests that once it had Aixtron's assets under control, Grand Chip Investment "might take action that threatens to impair the national security of the United States." While the specifics of those concerns were not given, it is believed that the US is concerned about Aixtron's work with Gallium Nitride for use in military technologies.
The Treasury Department's inter-agency Committee on Foreign Investment in the US had previously recommended the transaction be denied for security reasons, but Aixtron had hoped the President would have overturned that recommendation.
The deal would have seen the troubled Aixtron – which is headquartered in Germany and has an office in Silicon Valley – sold to Grand Chip Investment, a group of investors based in China, for 670m Euros. The acquisition, which has been on the table since May of this year, has also been opposed by regulators in Germany.
Aixtron has been hoping the acquisition will help the company rebound from a slide that has seen its first-half revenues drop by 31 per cent on the year amidst falling demand for its semiconductor materials used to fabricate chips and components such as LEDs.
Now, with the acquisition having been denied, Aixtron said it will be "evaluating the impact" of the decision, noting that Obama's order only extends to Aixtron's US holdings. This could leave the door open for a separate deal by Aixtron for its US business, which would allow the Grand Chip Investment buyout to then proceed without needing Washington's approval. ®
Sponsored: Detecting cyber attacks as a small to medium business