Cargo capsule goes AWOL, explodes on its way to Space Station
Suspected third-stage failure in Soyuz rocket, again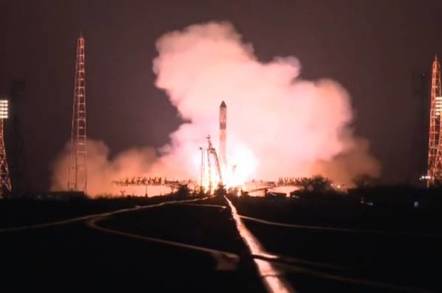 A Progress capsule filled supplies for the International Space Station today blasted off from the Baikonur Cosmodrome spaceport in Kazakhstan. Now its controllers have admitted the MS‑04/65P mission has been annihilated.
The podule was carrying 5,300 pounds (2,404 kilograms) of food, water, propellant, and a spare space suit for the orbiting space lab. It was launched on one of the venerable Soyuz-U rockets. However, 382 seconds into its flight, contact with the capsule was lost. The Russian space agency Roscosmos has just confirmed the container and its cargo are toast.
According to preliminary readings, the capsule was destroyed at "an altitude of about 190km over a remote and unpopulated mountainous area of the Republic of Tyva," Roscosmos said in a statement within the past hour.
"Most of the cargo spacecraft fragments burned in the dense atmosphere. The State Commission is conducting analysis of the current contingency. The loss of the cargo ship will not affect the normal operations of the ISS and the life of the station crew."
It appears at this point that there was a problem with the third stage of the rocket, which is designed to kick the cargo pod into a matching orbit with the ISS. It looks like a case similar to the 2011 Progress M‑12M mission – which ended in failure after the third stage of another Soyuz-U failed to function properly – and the 2015 Progress M‑27M launch, which suffered a similar fate.
In the meantime, there's no danger of the ISS crew suffering from shortages. The space station typically carries six months of supplies at any given time, and that buffer will be more than enough, especially since there's another resupply mission scheduled for later this month.
On December 9, the H‑II Transfer Vehicle, built by the Japanese space agency JAXA, is due to take off from Tanegashima Space Center. The mission had been due to launch in September but was delayed by hardware issues.
In January, SpaceX is scheduled to fire off a resupply mission of its own, the tenth for the fledgling rocket company. That depends, however, on the FAA giving the all clear and investigations are still continuing into why its last Falcon rocket blew up on the pad. ®
Sponsored: Practical tips for Office 365 tenant-to-tenant migration