Post-IPO Pure doing all right, says NVMe is the new flash
Four words: Stand-alone storage. Kerching
Pure Storage all-flash arrays continue to rise, with revenues up 50 per cent year-on-year in Pure's third fiscal 2017 quarter.
Pure beat Wall Street estimates, and says it has achieved a near $800m run rate. It must be hoping for similar growth in its current quarter and, by its own reckoning, it could be a billion dollar a year company in six months' time.
Revenues were $197m, 20.7 per cent up on the previous quarter, and there was a net loss of $78.8m as Pure ploughed money into building out its business. A year ago the net loss was $44.3m and it was $59.6m in the last quarter.
Underlying business health indicators improved, the firm said. For example, gross margin went from 61.1 per cent a year ago to 64.8 per cent.
CFO Tim Riitters said: "We are excited about our record Q3 revenue and significant operating leverage improvement. We continue to focus on driving growth and market share gains with a close eye on profitability."
The customer count grew by 300 with the total having passed 2,600.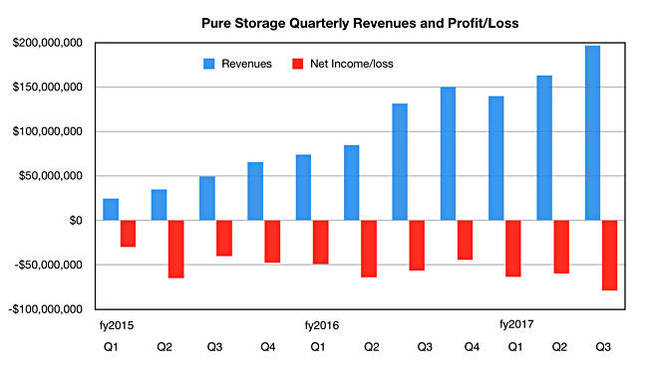 Pure Storage revenues and net income to Q3 fy2017.
The results statement declares a $30m legal cost, which we understand refers to the EMC-Pure legal dispute over IP. This ended in October, and involved Pure paying an undisclosed amount of cash to EMC. So now we know.
Stifel MD Aaron Rakers said Pure "does not expect a meaningful impact from anticipated slight price increases in NAND Flash over the next few quarters."
Looking ahead, the developing FlashBlade product, for storing unstructured data, is said to have lots of revenue potential. The firm claims early trial customers are liking it a lot. It's anticipated it will become generally available this quarter, and add materially to Pure's revenues in a quarter's time – in spring 2017.
Pure anticipates adding NVMe fabric access to its arrays. Scott Dietzen, Pure's CEO, blogs:
We believe all-NVMe will be a big as all-flash, and more difficult for our legacy competitors to deliver. NVMe provides the potential for a hundred-fold improvement in the parallel processing of data—superseding disk protocols designed to do one thing at a time. Extended across the network, NVMe will do away with locality constraints, enabling applications within a rack or cluster to access petabytes of data as if it were a local resource (providing a more scalable alternative to the server-local storage or DAS model popular in many cloud-native applications).
Pure is growing its cloud service provider business about twice as fast as the rest of its customers, saying it has "over 400 Software as a Service (SaaS), Infrastructure as a Service (IaaS) and "Internet" (consumer cloud) customers.
Dietzen says Pure will be ready to move to commodity solid state drives should they offer better performance and cost than Pure's own proprietary flash drives.
A blog by products VP Max Kixmoeller says Pure is looking to "deliver next-generation converged infrastructure, optimised for cloud and "new stack" applications," and to "make application development and data protection effortless in the cloud era."
Pure's outlook for next quarter is for revenues of between $219m and $227m, a 48 per cent annual growth rate at the mid-point. That would make for full fiscal 2017 year revenues of $723.1m, a 64.2 per cent increase on fiscal 2016. The post-IPO Pure Storage is out-growing its competitors and proving, so far, that stand-alone storage is no way a graveyard. ®
Sponsored: Minds Mastering Machines - Call for papers now open