AWS CTO: 'I truly hated the relationship with software tool vendors'
Vogels channels his inner Ballmer with pitch to code monkeys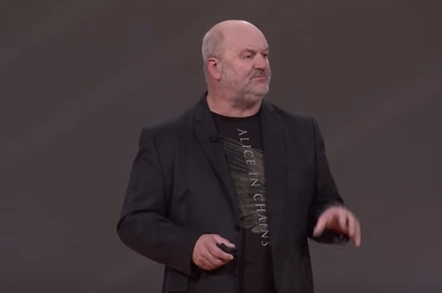 AWS re:Invent Amazon Web Services turned its focus to developers in day two of its re:Invent conference in Las Vegas, kicking out a handful of new features designed to make life easier for those who develop and maintain cloud applications.
CTO Werner Vogels said that the features, ranging from new analysis utilities to storage management and DDoS mitigation, were born from Amazon's own frustrations in dealing with third-party software tool vendors.
"I truly hated the relationship with vendors," he told the audience. "I felt they were in charge and I was never in charge, it was so counter to the culture we had at Amazon."
Specifically, the developer tools, now live on the AWS service, will help customers better manage their cloud applications and see where bottlenecks are happening.
To report on app performance, Amazon is launching the X-Ray analysis tool. The new service gives customers a screenshot of how traffic flows through various parts of their application and where users are being slowed down.
"It allows you to analyze and debug apps in production," Vogel said. "You can see exactly where performance bottlenecks are."
Also looking to give developers a clearer picture of performance is the Personal Health Dashboard. This new feature will let customers monitor the underlying machines running their AWS instances and will allow them to write Lambda functions to deal with problems like hardware failure or outages on the host systems.
AWS CodeBuild will give coders a new set of management tools during development. The pay-per-minute service will let developers test the code for their AWS applications both on cloud instances and within containers.
"We now have a complete set of tools that are native on AWS to coordinate this for you," Vogels said. "They are cloud native and will help you improve and accelerate the way you're doing deep development."
Also looking to give admins a better picture of their cloud lineup will be the S3 Storage Management service, while AWS Glue will let customers catalog and set rules for the data on their VMs and AWS Step Functions presets a visual workflow for distributed applications.
Finally, AWS is turning its attention toward network security with a new DDoS prevention service. The AWS Shield protections will be offered for every AWS customer and will run alongside web firewalls to prevent denial of service attacks on hosted apps. Those looking to get assistance from an actual person, however, will have to pay up for the Shield Advanced offering and its support team.
Vogels says that, on the whole, the new features are aimed at providing smaller AWS customers with features that had previously only been needed by large companies in areas such as government compliance rules.
"Whether you are a small company or the richest multi-national in the world, you all have access to the same services," Vogels declared.
"It is the quality of the data you have that will be the difference maker between companies." ®
Sponsored: Detecting cyber attacks as a small to medium business