Doctor AI will see you now: US military vets will be diagnosed by deep-learning bots
Thank you for your service... bleeped the computer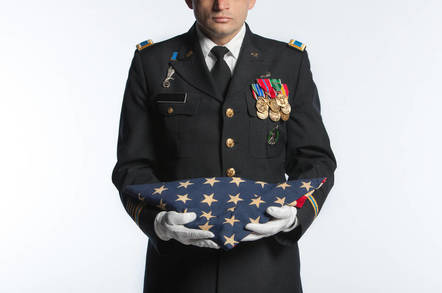 The US Department of Veterans Affairs (VA) has signed a five-year deal with Flow Health, an AI company, to develop personalized healthcare plans for veterans using deep learning.
Deep learning is a tool in machine learning that is useful for sifting through huge heaps of data to find useful information. Flow Health is focusing on building a knowledge graph, a database containing information about people's genomes and phenotypes, to identify disease risks and recommend treatments.
"Our mission is to advance healthcare by applying the latest artificial intelligence techniques to improve the detection, diagnosis, treatment and management of diseases," said Alex Meshkin, CEO of Flow Health.
"The VA supports millions of Americans who have served our nation and deserve our honor, respect and the best care our country has to offer. Through our partnership with the VA, Flow Health is working to unleash the power of AI to benefit our nation's veterans."
Not only is high computational power needed for AI to succeed, but it must have access to data to make useful insights, and luckily medicine is an area that has huge volumes of data. There are an estimated 30 petabytes of clinical data locked inside the VA records from 22 million veterans over 20 years.
All that data means that Flow Health will be building the "world's largest" knowledge graph on medicine and genomics.
Healthcare is a big focus area for AI. DeepMind, Google's British AI firm, has a team dedicated to health, and it too has just signed a five-year partnership with Royal Free London NHS Foundation Trust to develop an app called Streams.
With access to the UK's National Health Service data, DeepMind will use Streams to alert clinicians if their patients show high risk of developing acute kidney injury, among other things.
AI won't be used only to analyse patterns in health care data, but eventually may even start dishing out health advice.
Gartner analysts have predicted that up to 50 per cent of the population will rely on virtual personal health care assistants by 2025. Companies such as Baidu Research, the research arm of a Chinese web services company, have developed Melody, an "AI-powered conversational bot" to provide relevant information for doctors and patients. ®