Internet Archive preps Canadian safe haven to swerve Donald Trump
Asking for donations to head north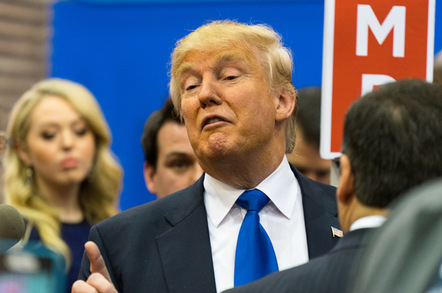 It's something many Americans have talked about – moving to Canada to escape President Donald Trump – but now the Internet Archive is preparing to do just that.
"On November 9th in America, we woke up to a new administration promising radical change," reads a blog post from the organization's founder, Brewster Kahle. "It was a firm reminder that institutions like ours, built for the long term, need to design for change."
And that change comes in the form of setting up a bolt hole, or safe haven, north of the border. The organization is creating an Internet Archive of Canada because, it explains, "lots of copies keep stuff safe."
Yes, as incredible as it may seem, Donald Trump's rhetoric and the list of appointments he has made for his cabinet have the Internet Archive genuinely concerned that the United States may no longer be a safe place to store copies of one of the country's greatest-ever inventions: the internet.
"For us, it means keeping our cultural materials safe, private and perpetually accessible," Kahle notes. "It means preparing for a Web that may face greater restrictions."
One of those concerns is government surveillance, something that the organization notes "is not going away; indeed it looks like it will increase." Another is privacy: the Archive has a strong policy of not collecting IP addresses because it believes people should be able to access information freely without a record being created of what they have looked at.
Read em and weep
"Throughout history, libraries have fought against terrible violations of privacy – where people have been rounded up simply for what they read," the post notes. "At the Internet Archive, we are fighting to protect our readers' privacy in the digital world."
It's not hard to imagine a Trump Administration insisting on records being kept, especially if it decides that some content represents a national security threat.
As things stand, the Internet Archive – which also offers free e-books and has electronic archives that cover everything from webpages to old computer games – has no solid plans to move from its base in San Francisco. However, the Canadian version of itself will serve as a complete copy, so it will able to make a quick and easy shift if it feels it is being compromised at a later date.
That backup is going to cost millions of dollars, according to Kahle, and so the organization is looking for donations to make it possible.
In Australia, the cost of running a digital library has already led to a government-led plan being scaled back.
As the post notes: "The history of libraries is one of loss," and references the famed Library of Alexandria that was set fire to, resulting in a loss of knowledge that still reverberates 1,600 years later.
"Libraries like ours are susceptible to different fault lines," the organization states. "Earthquakes, legal regimes, institutional failure."
And now Donald Trump. ®