San Francisco's sinking luxury Millennium Tower: Tilt spotted FROM SPACE
Alternative headline: Euro sats monitor surface changes 'down to the millimetre'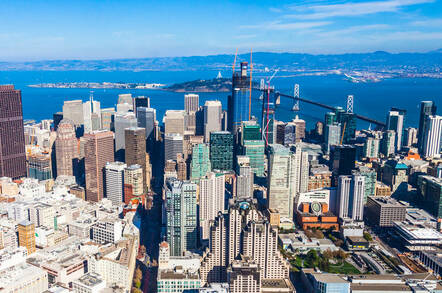 San Francisco's $350m leaning Millennium Tower is continuing to sink into the ground, European satellites orbiting Earth have confirmed.
The 58-story landmark, at 301 Mission Street, is one of the tallest structures in the tech-playground city, overlooking the bay and the metropolis's startup land. The swanky skyscraper, an emblem of San Francisco's high-rise high living, was completed in 2009, and its apartments were sold for millions of dollars to celebrities and investors.
It was expected to sink less than 10 inches during its lifetime. It's already slumped 16 inches, is listing a few inches to the northwest, and it could sink a further 31 inches. The European Space Agency today said its Sentinel-1 satellites, having scanned the city's surface, have found that the building is disappearing into the ground at a rate of a few centimetres a year.
The problem appears to be that it was not built all the way down to the bedrock, and instead is sitting on a concrete slab with piles that go down just 60 to 80-feet into an underlying layer of landfill. Lawsuits against the developers are, as expected, in flight.
It's alleged that the city's building inspectors knew back in 2009 that the tower was sinking but did nothing about it – not even alerting the public nor the apartments' owners. San Francisco magazine's Lauren Smiley and Joe Eskenazi have detailed this ongoing clusterfsck at length here; it's worth the read.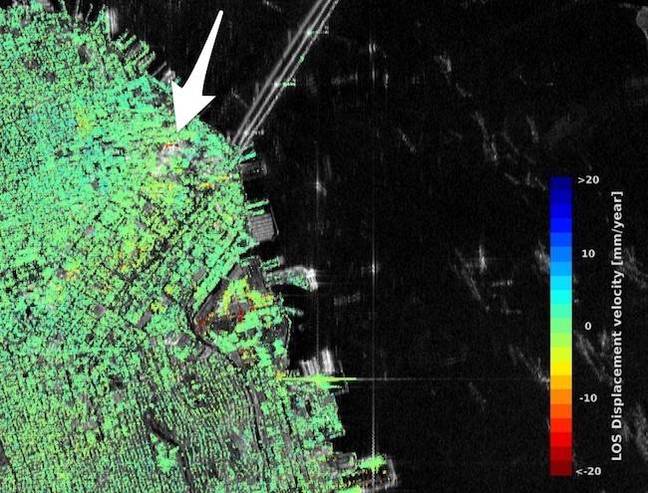 The ESA's displacement map for San Francisco – we've marked the tower's location (click for a hi-res copy)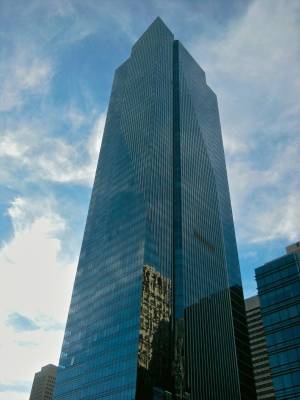 Glass act ... The Millennium Tower (Photo by Michael Gimbel)
According to the space agency:
The Sentinel-1 satellites have shown that the Millennium Tower skyscraper in the centre of San Francisco is sinking by a few centimetres a year. Studying the city is helping scientists to improve the monitoring of urban ground movements, particularly for subsidence hotspots in Europe.

Completed in 2009, the 58-storey Millennium Tower has recently been showing signs of sinking and tilting. Although the cause has not been pinpointed, it is believed that the movements are connected to the supporting piles not firmly resting on bedrock.

To probe these subtle shifts, scientists combined multiple radar scans from the Copernicus Sentinel-1 twin satellites of the same area to detect subtle surface changes – down to millimetres. The technique works well with buildings because they better reflect the radar beam.
San Francisco isn't alone with its sinking feeling. We're told that, following scans by ESA's radar birds, older parts of Oslo's train station in Norway are experiencing "severe subsidence." Scientists are using data from SF and Oslo's slumping buildings to study other cities around the world. The goal is to make this information available to everyone so there are no nasty surprises down the line for home owners, businesses and other property buyers. Cough.
"In Norway, we have already initiated a framework project to provide nationwide basic deformation products to the public, with a free and open data policy. Many other countries in Europe are also working towards setting up similar services," said the Norwegian Space Centre's Dr Dag Moldestad. ®