Nimble: Thank flash for sweet, sweet AFA
But while the all-flash kit sales are up, hybrid arrays are down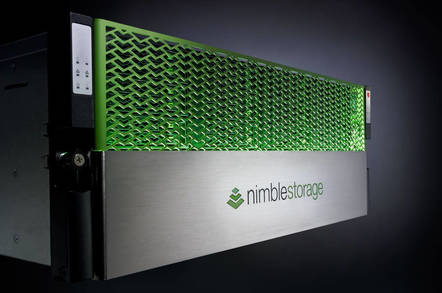 Analysis A considered look at Nimble Storage's latest quarterly results show that its all-flash array (AFA) sales are rising but hybrid product sales are falling, suggesting some cannibalisation is going on.
We need to provide a few numbers to show this, and the ones for the recent quarter come from Nimble's shareholder letter (PDF). Older ones come from Nimble's investor relations webpages.
In Nimble's 3Q2016, total revenues were $80.2m, of which product revenues were $65.57m. At that time it only sold hybrid flash-disk arrays. Their AFAs only became available in the last two quarters.
A year later, total revenues were $102m, 26 per cent up on the year, and the product revenue component is $81.3m. We're told AFAs accounted for 24 per cent of total product revenues, which means $19.51m, leaving $61.79m for hybrid arrays.
Thus hybrid array sales have fallen $3.78m on the year and all of Nimble's product revenue growth is due to AFAs.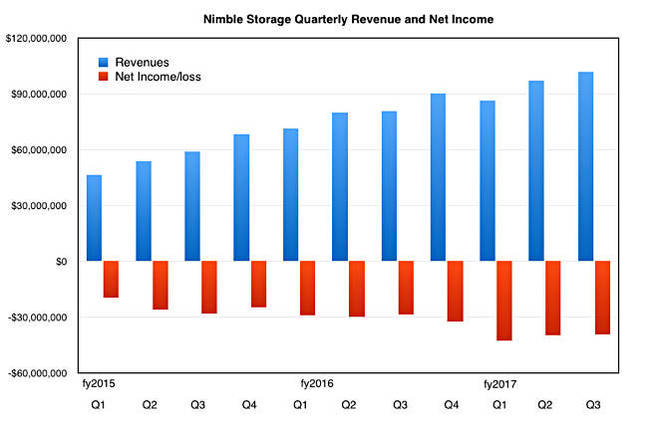 We also know that Nimble's product gross margin has fallen from 67.8 per cent a year ago to 66.2 per cent in the latest quarter. No doubt the amount of competition is putting pressure on pricing.
Nimble says it sold AFA products to 217 customers in the latest quarter, of which 115 were new to the company. There were 133 in the previous quarter. It's growth but is it enough?
If hybrid array sales continue to fall, that creates a headwind which all-flash arrays have to overcome before Nimble's overall revenues grow. It will no doubt be pushing AFA array sales hard, hoping that any discounted pricing to get AFAs in the door will be recovered through add-on sales later. ®