Fibre pushers get UK budget tax reprieve
No business rate tax for pure fibre for next five years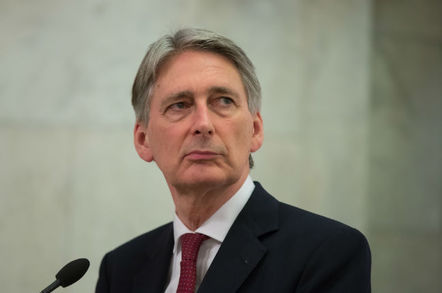 Businesses rolling out pure fibre in the UK are to be exempt from paying land rates over the next five years, Chancellor Philip Hammond's announced in a reprieve to providers in his Autumn Statement today.
Broadband providers previously hit out against a forthcoming hike in business rates that will dramatically increase the tax paid on fibre optic networks.
The increase in tax is decided by the Valuation Office Agency, which sets rates for all businesses accessing land. The body was in the process of updating the rateable values of all business properties, with new rates set to come in force in 2017.
The 100 per cent business rates relief for new full-fibre infrastructure will come into force on April 2017.
Although big providers such as BT and Virgin will be the initial beneficiaries of the reprieve, the move is also expected to help smaller providers by removing the costs associated with laying new fibre in the ground.
Hammond also announced £400m finance for VC investment in tech startups, intended to "unlock up to £1bn of new investment in innovative firms planning to scale up."
Many of the announcements in the statement had already been released beforehand, such as the £2bn in science and innovation R&D and an investment bank which is designed to help boost small companies in the technology space.
The government had also previously announced a £400m "full fibre" Digital Infrastructure Investment Fund that would enable matched private sector finance to invest in new fibre networks over the next four years, which, according to accompanying document would "[help] to boost market ambitions to deploy full-fibre access to millions more premises by 2020".
It has unveiled a National Productivity Investment Fund that will add £23bn in high-value investment from 2017-18 to 2021-22. That will include a previously announced £700m to support the market to roll out full-fibre connections and future 5G communications.
The NPIF has also committed £100m to develop autonomous vehicles and £450m to trial digital signalling technology, to expand capacity, and improve reliability. Around £80m will be allocated to accelerate the roll out of smart ticketing including season tickets for commuters in the UK's major cities.
The Department for International Trade will also provide overseas support of £500,000 a year for FinTech specialists. ®