Hey techbros, make an airplane mode but for driving for your apps – US traffic watchdog
Technology industry already hitting the brakes on distracted driver push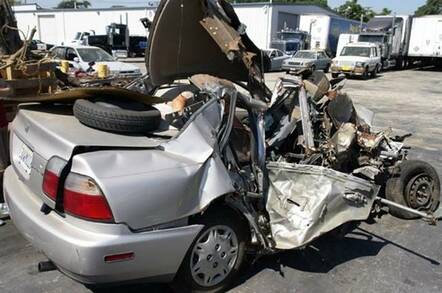 The US National Highway Traffic Safety Administration has proposed voluntary guidelines [PDF] designed to reduce driver distraction by mobile devices in vehicles.
According to the NHTSA, about 10 per cent of the 35,092 traffic fatalities in 2015 – 3,477 people – involved one or more distracted drivers. This represents an 8.8 per cent increase from 2014. And of the 5.6 million non-fatal crashes reported to US authorities in 2014, 16 percent involved distraction, resulting in the injury of 424,000 people.
This despite the fact that texting while driving is banned in 46 states and the District of Columbia. Fourteen states, along with DC, Puerto Rico, Guam and the US Virgin Islands, prohibit the use of handheld cell phones by drivers.
The NHTSA proposed guidelines encourage – but do not require – makers of portable electronic devices to design their products in a way to reduce distraction if used while driving.
They recommend that device makers implement pairing capabilities that allow built-in vehicle systems (covered under separate guidelines) to block certain potentially distracting functions, including:
Displaying video not related to driving.
Displaying certain graphical or photographic images.
Displaying automatically scrolling text.
Manual text entry for messaging or internet browsing.
Displaying text for reading or advertising.
The guidelines also recommend the implementation of Driver Mode, which would provide a simplified interface for allowed (non-distracting) functions and would block functions that would be disallowed in a device paired with a vehicle.
Unlike Airplane Mode, which disables wireless connectivity, Driver Mode is not intended to disable mobile devices in moving vehicles – something Apple and Google could implement on a platform level but haven't. Rather, it represents a fallback system for when pairing is unavailable or the driver opts not to pair.
The NHTSA wants device makers to design Driver Mode to be subject to both manual and automatic activation. However, it concedes that technology to detect whether a mobile device user is driving (as opposed to using a device as a passenger) may be unreliable. Thus it favors manual activation of Driver Mode until the driver-passenger distinction systems mature.
The Consumer Technology Association (CTA), a trade group that represents more than 2,200 companies, characterized the proposed voluntary guidelines as "extreme."
"NHTSA's approach to distracted driving is disturbing," said CTA president and CEO Gary Shapiro in a statement. "Rather than focus on devices which could reduce drunk driving, they have chosen to exceed their actual authority and regulate almost every portable device."
In response to challenges to its authority raised by industry groups like the CTA, the NHTSA has said that it has the authority to regulate technologies that function as "motor vehicle equipment," as described in the Vehicle Safety Act.
The NHTSA, in its proposed guidelines, notes that the CTA in 2013 launched a Working Group to address distraction arising from portable devices, only to abandon the effort in 2014 due to liability concerns. ®