Hyperloop One settles hangman lawsuit
Details confidential, but don't expect to see Brogan BamBrogan on the board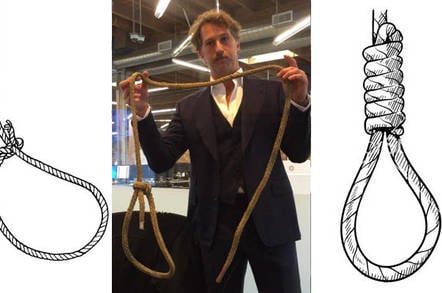 The extraordinary lawsuit/soap opera surrounding tube-travelling Hyperloop One has been brought to a close.
On Friday, the company reached a confidential settlement with four former employees who had seemingly tried, and failed, to stage a management coup earlier this year.
"Hyperloop One is pleased to announce that it has reached a confidential resolution of litigation with its former employees and looks forward to continuing to execute on its business plan," the company said in a statement.
The company's CEO Rob Lloyd sent an email to staff announcing the settlement but went into no further details, simply listing the company's achievements since it was thrust into the spotlight thanks to a series of salacious and eye-popping accusations, included in the initial lawsuit from former CTO Brogan BamBrogan.
"I am pleased to inform you that we have resolved the lawsuit that was filed this summer against Hyperloop One by several of its former employees," wrote Lloyd. "Lawsuits can be distracting for companies; they often halt momentum until they can be resolved. That didn't happen here."
BamBrogan clearly calculated when he and his three former colleagues lodged the lawsuit that Hyperloop One did not want mountains of bad publicity while its project remains in the development stage.
In it, he painted a picture of a company so caught up in its own celebrity that it was neglecting its staff and technology while showing minor celebrities around its headquarters. Most strikingly, BamBrogan claimed that a "hangman's noose" had been left on his chair by the company's general counsel after an argument he had had with management over share options.
He also accused the CEO of nepotism and massively inflating the wages to the company's PR representative shortly after they started sleeping together.
Back at yer
Hyperloop One responded with an equally salacious response, accusing BamBrogan of harassing women, getting drunk at work, attempting to stage a management coup and not even doing a half-decent job with the technology side of the company.
On the hangman's noose, the company asserted that it was in fact a lasso – created to indicate that BamBrogan was "acting like a cowboy." Photographic evidence supported Hyperloop One's lasso claim.
A subsequent amended complaint also painted BamBrogan in a convincingly poor light, going into detail over his demands and efforts to force himself onto the company's board.
But neither side came out coated in glory and at the first case management hearing in Los Angeles earlier this month, clearly both teams' lawyers decided it might be in everyone's best interests to reach an agreement before reputations were damaged further.
We don't know what settlement was reached, but on the basis of the evidence produced and the fact that no major news has been shared, it's probably fair to assume that BamBrogan was given just enough to make him go away.
And so ends one of the more bizarre lawsuits of 2016. On one level of course, it's a shame. We were looking forward to seeing what madness came out during the trial.
Hyperloop One in the meantime has won a contract for its technology in Dubai to create the first working version of its tube-travel system between Dubai and Abu Dhabi. It is also reportedly talking to the Dutch and Finnish governments about similar systems. ®