HPE is creaming Dell in HPC
Servers you right, says shrinker to bulked up big boy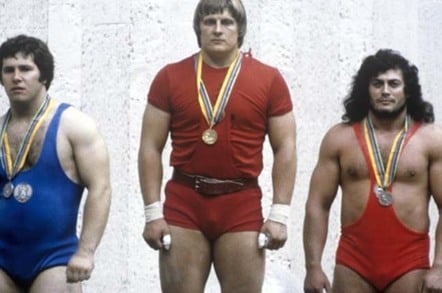 HPE is making almost twice as much revenue from shipping servers into the supercomputer market as Dell EMC.
According to our sister publication The Next Platform, "Servers are the key component of HPC systems, and so sales of servers into the HPC space is a good proxy for the overall health of the HPC sector.
"In the first half of this year, HPC centres of all shapes and sizes bought $5.2 billion of machines, with $1.6 billion of that being allocated for supercomputers, which in the IDC categorisation of systems are for machines that cost in excess of $500,000."
IDC has produced supercomputer market server ship stats for the first half of 2016 and its table of revenue share by vendor shows HPE is tops by far:
HPE – $446,081,000
Wuxi – $300,000,000
Dell – $224,170,000
Lenovo – $142,725,000
Cray – $130,840,000
IBM – $110,657,000
Fujitsu – $51,119,000
SGI – $34,262,000
Bull Atos – $19,485,000
NEC – $17,000,000
Sugon (Dawning) – $11,179,000
Other – $114,750,000
Grand Total – $1,602,259,000
Wuxi is not a server vendor; it refers to the Chinese Sunway TaihuLight supercomputer at Wuxi, which uses Chinese-designed SW26010 64-bit RISC processors.
Charting the IDC numbers shows HPE's dominance: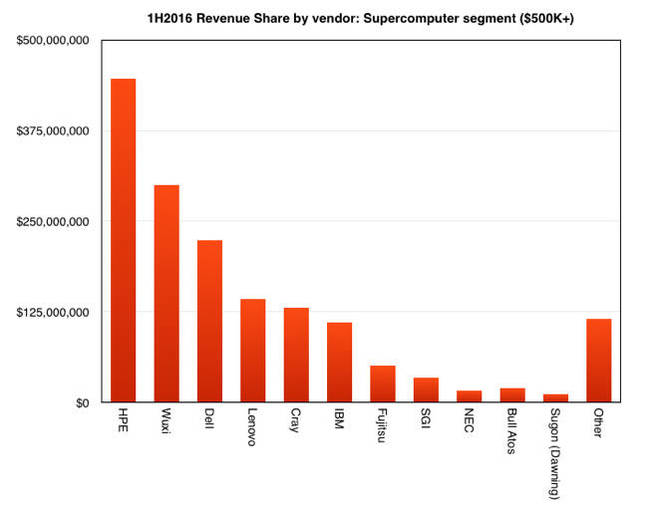 If we add SGI revenues to HPE's we get $480,343,000, which makes HPE more than twice as big as Dell EMC in this sector.
IDC's overall world-wide server supplier revenue market share numbers also show HPE comfortably ahead of Dell EMC. In the second 2016 quarter, HPE had a 25.4 per cent market share with $3.4bn in sales. Dell was second with $2.6bn in sales and a 19.3 per cent market share. No other supplier was in the double-figure market share percentage area.
Between them, HPE and Dell EMC dominate server sales, but the overall ODM sector is growing faster (13 per cent y-o-y) than HPE (-0.3 per cent) and Dell (10 per cent).
And former bright star Cisco? It had a 6.4 per cent revenue share and shrank at 0.7 per cent in that quarter, according to IDC. Somehow this dimming giant has not lived up to its earlier promise with its UCS servers, and needs to rediscover its server mojo. ®