NetApp's regeneration could be deep surgery or anti-wrinkle cream
Declining funds and staff but growing flash revenues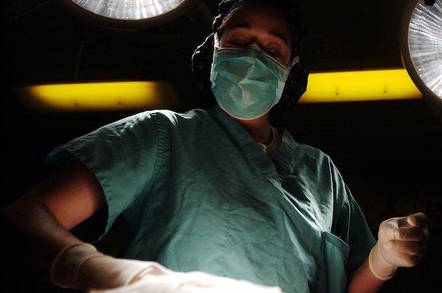 Analysis NetApp's long story short – customers aren't buying the old stuff and don't like the new stuff much either.
In its second fiscal 2017 quarter, revenues of $1.34bn were 7.6 per cent down on $1.45bn the year before. They were 3.9 per cent higher than Q1 2017's, though.
Profits (net income) of $109m were 4.4 per cent down on a year ago and 70 per cent up on the prior quarter.
Earlier this month, NetApp reduced its headcount 6 per cent in a cost-cutting exercise. Now we know why. Run rate savings from this are estimated to be $130m. No more staff reductions are expected.
The announcement release was opaque as to why revenue and profits fell. CEO George Kurian's opening earnings call statement said: "These results are clear evidence of our ability to execute, while we streamline the business and pivot to the growth areas of the market."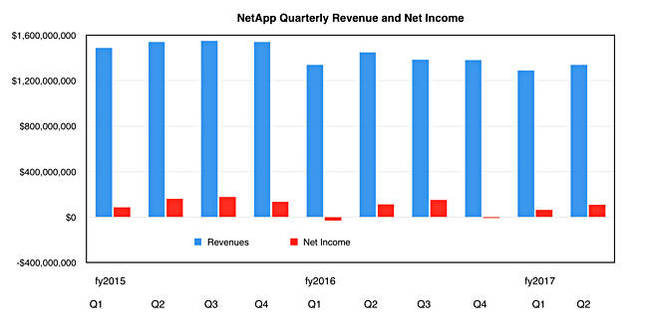 The company wants to return to revenue growth, which it is not yet achieving, and Kurian says NetApp has three priorities – operate its data fabrics strategy; permanently lower its cost structure and streamline operations (some progress made); and capital allocation, which is actually two priorities: invest in the business for growth and return money to shareholders via share buy-backs and dividends.
It returned $169mn to shareholders in the quarter, more than its net income.
Kurian said that revenue from mature products (OEM business both E and N-series, ONTAP 7 mode business and add-on storage components) fell 29 per cent year-on-year while revenue from "Strategic solutions" (Clustered ONTAP, branded E-Series, All-flash FAS, hybrid cloud, and SolidFire) amounting to 62 per cent of overall revenues were flat year-on-year, although growing 10 per cent sequentially. Hence overall revenues took the 7.6 per cent slide.
He thinks sales of old products will stop declining so much in the next two quarters while selling more new items, with moderate growth overall. Not much fizz there.
How will NetApp succeed?
Like every other incumbent, NetApp says it is transforming its customers' IT – that digital transformation modernising customer data centres cliché. It's all about scale-out, software-defined, storage platforms; Clustered ONTAP in two words.
He says Clustered ONTAP shipped on 86 per cent of FAS hardware delivered during the quarter. It was 70 per cent a year ago. But only 36 per cent of FAS hardware in NetApp's customer base runs Clustered ONTAP. Stifel MD Aaron Rakers says this is "up from 17 per cent, 24 per cent, 26 per cent, and 32 per cent in F2Q16, F3Q16, F4Q16, and F1Q17, respectively."
We could assume, though, that a significant chunk of that base will never upgrade to the clustered version of the FAS OS.
Kurian said NetApp's three-pronged all-flash array – E-Series, all-flash FAS and Solidfire – business revenues tripled year-on-year and reached a $1bn run rate. Not enough, George. Overall revenues fell in the quarter, as they had in the previous quarter and the one before that.
He said: "We have gained share in solid-state and we continue to feel confident about our prospects going forward." NVMe and 3D Xpoint devices are coming to NetApp's products.
Rakers writes this about NetApp's all-flash product performance: "All-flash revenue grew 185 per cent y/y, or we would estimate approximately 150 per cent y/y growth excluding SolidFire contributions. We would note that NetApp's all-flash results compares to Pure Storage's annualised product revenue run rate at ~$631 million (+39 per cent y/y)." This is good news for sure. Rakers' chart shows more about this: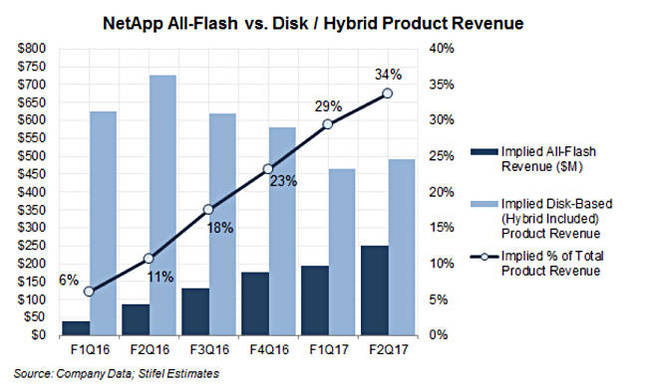 According to IDC, NetApp was the fastest-growing SAN vendor in the first half of 2016. TBR analyst Krista Macomber writes: "As a result of its restructuring initiatives, NetApp reversed six consecutive quarters of year-to-year operating margin declines during C2Q16, and continued that trend during 3Q16, with operating margin rising 60 basis points from 3Q15 to 10.6 per cent ($142 million)."
When Kurian asserted "We are on track to return the company to long term growth," that's one of the things he's talking about.
Hyper-converged and hyper-scaler
He was not excited by a question about hyper-converged appliances, where FlexPod partner Cisco has HyperFLex and Nutanix has IPO'd.
We have two approaches to compete with hyper-converged solutions, one is a set of innovations that we brought to the FlexPod family called FlexPod Automation and the second is with SolidFire, which provides a zero touch storage provisioning solutions.

The release of SolidFire that we introduced in the summer of this year called Fluorine allows us to compete very well with hyper-converged solutions and VMware environments and we have been seeing wins. So we realise there is value to customers from hyper-converged offerings and we have solutions to respond to those customer needs.
We were told by Henri Richard, NetApps EVP for w-w field and customer operations, a few weeks ago that NetApp is developing a specific hyper-converged product. It's obvious to us that neither FlexPod Automation nor the Solidfire Flourine release are adequate competitors to Dell EMC's VSAN/VxRack/VxRail products, nor Nutanix, SimpliVity and HyperFlex. If Flexpod Automation was that good, Cisco wouldn't be bothering with HyperFlex.
TLC's Macomber notes that NetApp has a portfolio gap "around hyper-converged platforms".
On another hyper-topic, NetApp has no hyper-scale customer business. Kurian said: "We are building hybrid IT solutions that combined on-premises data centres with the data centre and IT architectures of the hyper-scale providers... While that part of our business is not material, they are allowing us to win on premises transactions because of a compelling, forward-looking hybrid IT roadmap that customers can buy into."
That for us sums up NetApp's overall strategy as a standalone, shared storage array supplier. Defend the base by, where it can, working with off-premises storage suppliers through the Data Fabric hybrid cloud idea. It has no real answer, yet, to hyper-converged infrastructure appliances and no practical way to sell its storage gear, its high-priced storage gear, to hyper-scalers who don't really want its software.
Rakers writes: "We think NetApp's F2Q17 exhibit positive execution on the company's cost realignment efforts and overall operating discipline, we continue to struggle with the company's top-line growth trends."
Surgery or anti-wrinkle cream
You sometimes get the impression that trying to get NetApp growing and being more dynamic is like giving vitamin pills to an elderly person or Botox facial injections to make wrinkles go away. Yes, the surface looks fresh for a while but the ravages of ageing continue underneath.
From that viewpoint, fiscal 2017 is shaping up to be a third year of decline for NetApp. George Kurian's cost-control Botox and strategic solutions vitamin pills have not demonstrably improved NetApp's overall performance yet. NetAppers are hoping that these two things are more than just cosmetic skin smoothing of an ageing company. Competitors are sure they are not. The rest of us are watching and waiting and unsure what to think. Are we seeing deep surgery paying off or the surface effects of anti-wrinkle cream?
Kurian said: "Our plan was to return the company to growth in aggregate in fiscal 2018. Our plan was to return product revenue to growth in the second half of this year... We got to keep our head down and execute the plan. And I would just tell you that's my focus right now."
Next quarter's revenues are expected to be between $1.325 to $1.475bn, which at the midpoint implies a sequential increase of approximately 4 per cent and a 1 per cent increase year-over-year. Botox or underlying regeneration? Let's be hopeful; it's surgery and it's working. ®