Cisco: Revenues are flat, profits are down, and we're not changing our plan
Switchzilla vows to stay the course in cloud n' security push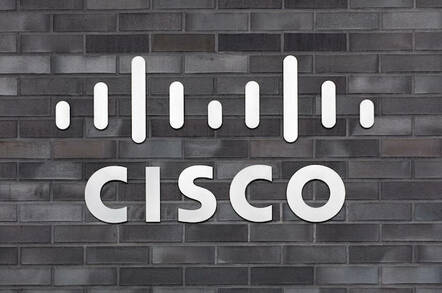 Cisco says it will continue its push into the services space as its revenues were once again down slightly.
Switchzilla told investors on Wednesday that even in a "challenging business environment" globally, it was not going to change its plans to focus on automation, security and analytics as it moves away from its traditional hardware router and controller focus.
"I'm pleased with our performance today as well as the progress we're making in transitioning our business to a more software and subscription focus, which we'll continue to apply across our entire portfolio," said CEO Chuck Robbins.
For the FY2017 Q1, ended October 29th:
Revenues of $12.4bn were down 3 per cent from $12.7bn last year. Cisco notes that when the since-divested SP Video and CPE business is excluded from last year's numbers, revenues are up 1 per cent.
Net income of $2.3bn was down 4 per cent from $2.4bn last year.
Non-GAAP earnings per share of $0.61 topped analyst estimates of $0.59.
Revenues for Cisco's security business were up 11 per cent, while the Next Generation Network unit saw revenues climb by 6 per cent. On the down side were Cisco Switching (down 7 per cent); Wireless and Service Provider (each down 2 per cent); and Collaboration and Data Center (each down 3 per cent).
Robbins told analysts that Cisco is looking at those growing spaces for security and cloud management to not only keep Cisco's revenues up in the coming quarters, but also help to provide the impetus for a hardware refresh push that will help boost revenues for its networking hardware as well.
"As we continue to work on bringing automation and security and cloud-based management to our portfolio, I think that will help our customers see the opportunity to refresh," the Cisco boss said.
Cisco shares were down 4.34 per cent in after-hours trading at the time of publication. ®
Sponsored: How to Process, Wrangle, Analyze and Visualize your Data with Three Complementary Tools