Commish urges UK.gov to mean it when it talks about transparency
No use just wanting something, make it a statutory requirement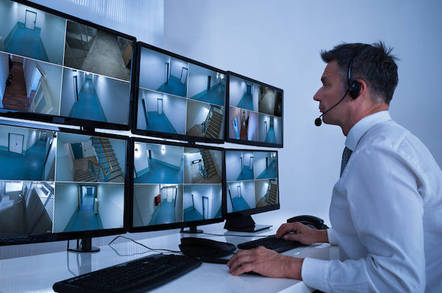 If the government wants to be transparent then it ought to make transparency a statutory requirement for its CCTV-wielding authorities, according to the Surveillance Camera Commissioner (SCC).
The third annual report (PDF) of the incumbent SCC, Tony Porter, was laid before Parliament this morning. Among its polite recommendations was a patient explanation to the Home Office, which has historically struggled to understand some of the SCC's communications, of the value of creating a statutory requirement for relevant authorities to publish details about their surveillance activities.
Such a statutory requirement would most suitably come in as an amendment to the Protection of Freedoms Act 2012 (PoFA), a coalition-government bit of legislation which established the commission for several independent bodies (including the SCC) to oversee the State's more intrusive activities.
If amending the law doesn't work – i.e. relevant authorities simply do not publish as some fail to meet the requirement to follow the surveillance camera code of practice – then Porter recommended that the SCC should be able to issue 90-day transparency notices to demand that they publish up.
Failure to do so will incur sanction penalty of independent inspection of the system by accredited inspectorates at the authority's cost and any rectification defects found and results published.
"Yet again it's been an incredibly busy and challenging year," commented Porter. "I've continued to see lots of great examples of good practice from relevant authorities and those who fall outside the scope of this definition."
However, as he told The Register when launching a national strategy (for England and Wales) on CCTV back in October, there remains "a gap between what exists and what should exist".
The SCC's key weapon in assuring the compliance of local authorities – lacking a larger slice of the Home Office budget – has been a self-assessment tool which, when the report was submitted, had around an 85 per cent completion rate.
This was valuable because "system controllers are held publicly accountable for the rationale underpinning their CCTV system", Porter said, before adding that "equally there is room for improvement and I'm determined to continue my push to raise standards across the industry. This is what the national surveillance camera strategy precisely sets out to do."
As Porter is in the final year of his three-year commission, this is likely to be his last annual report to be published, having raised compliance among public authorities operating surveillance cameras from less than 2 per cent (20 authorities) to 85 per cent.
PoFA will be reviewed next year, offering an apt opportunity for the government to move forward with his recommendations for transparency. ®