IT outsourcing is soooo passé, says outsourcing giant Fujitsu
You guys had better get a move on then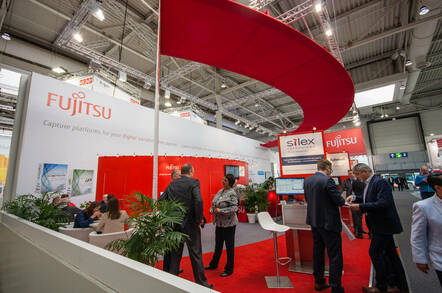 Traditional IT outsourcing has "had its heyday", chief technology officer Joseph Reger of traditional-IT-outsourcer-turned-wannabe-digital-upstart Fujitsu has said.
Speaking to The Register at the Fujitsu Forum trade event in Munich, he said: "I don't think it's had its day completely yet, because that means it would not be a viable business anymore. But it's certainly had its heyday.
"Just look at the market, this is not rocket science. All the segments of traditional IT are not indicating much growth."
His words echoed those of Duncan Tait, head of Europe, the Middle East, Africa and India.
In a somewhat grandiose statement, Tait claimed digital disruption is "the most fundamental thing to happen to our field since human beings first started communicating with each other," adding: "Every last business in the next five years will change beyond recognition, including Fujitsu."
He outlined security, artificial intelligence, cloud, and the Internet of Things as the key investment priorities for the company.
As such, the biz is throwing £250m at these fields and "re-employing" 1,200 staff, while simultaneously axing 3,300 jobs across Europe including 1,800 in the UK.
But according to Reger, those cuts are part of Fujitsu's own transformation process and not just a boring, old corporate restructure.
"We don't use the word restructuring, we use the word transformation. This is not a euphemism for us. Transformation is more than that, as it means trying to achieve an objective, that is change the skills set to respond better to our customers, and to build value chains."
However, Fujitsu remains very much associated with the old world of IT outsourcing – at least in the UK.
For example, the Home Office recently extended its now 18-year IT contract with the business.
UK and Ireland head Michael Keegan said those types of deals represent a "transition" to the brave new digital world – albeit it a long one.
"On the Home Office, that world of digital transformation didn't exist 18 years ago, it didn't exist three years ago. The first generation of the outsourcing model was quite a profound change," he said.
"What I think it has delivered is much more value for money and better performance for the taxpayer. But we are now seeing the next wave of change."
Whether you call it a restructure or transformation, isn't Fujitsu somewhat late to the party when it comes to realigning its business model?
"No," said Keegan. "We started buying and developing our IoT range three years ago, we've been developing our security business for years... so I don't think we are late to the party.
"Are we a bit slow in terms of getting our cost base truly competitive to the market? I think that's maybe a legitimate criticism. But I think we are now taking the right steps to make Fujitsu properly globally integrated, competitive and invested in the growth areas."
Under its plans, Fujitsu is opening a new cyber-security business, using AI to detect and respond to anomalies in network traffic. It will be part of the company's new MetaArc portfolio of digital services.
Not surprisingly that will also include a dose of cloudy offerings, under its latest K5 cloud service, which was rolled out in Blighty this summer.
Of all the technologies to receive a cash injection from the business, Reger says machine learning and AI are the latest to be identified as key areas.
"If you asked me just half a year ago [what the main technology trends are for us] it would have been a different answer from today," said Reger. "One thing that has been very clear is the importance of machine learning and artificial intelligence."
No doubt the business will be hoping its shiny new "solutions" can help tackle its falling growth outside of Japan.
Fujitsu certainly hopes it can offset the declining revenue from the old outsourcing world, which Reger is right to identify as past its prime. ®