GoPro drone moan brings more bad Karma
Shares down again for camera company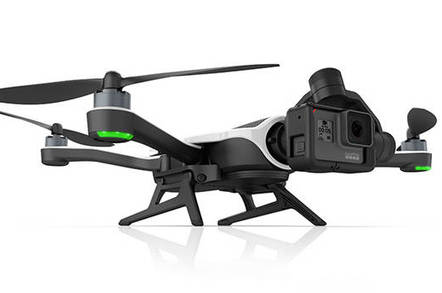 GoPro's share price has dropped a further five per cent on the news that its new drone, named Karma, had power problems.
Less than a week after the company's shares nosedived following a terrible third quarter revenue report, the sports camera manufacturer was forced to recall its new product after reports that several units lost power mid-flight.
The company stressed that no one and no property was hurt or damaged when the Karmas failed and has offered refunds to all purchasers. Perhaps just as damaging as the power loss is the fact that the company only sold 2,500 units in the first two weeks of launch.
Adding to GoPro's woes, it did not reveal what caused the power loss and it has not offered replacements – strongly implying that it doesn't know what the issue and/or doesn't have a fix for it.
What's worse, would you say @GoPro, that your drones lose power during flight or that you've only sold 2,500 in two weeks?

— The Register (@TheRegister) November 9, 2016
The Karma costs $799 and was GoPro's first big effort to branch out beyond its core camera product line. It was one of three new products – the other two being two new cameras – that the biz hopes will turn around it falling sales. The cameras have been delayed over production issues. ®