Judge throws out Trump lawyer's demand for poll worker info – because it'll feed Twitter trolls
Don't worry, just a few more hours until it's over (for now)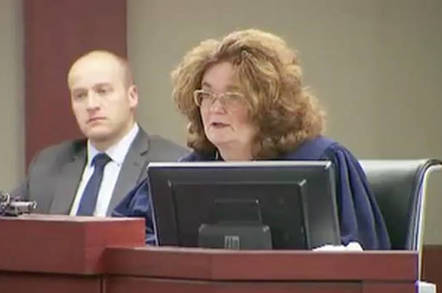 A judge in Nevada has thrown out a lawsuit from a lawyer representing Donald Trump, arguing that she would not order the release of election poll worker information due to "Twitter trolls."
"There will no harassment," argued Brian Hardy, the campaign's lawyer, who wants the details about people present at an early-voting poll station where, he argued, hundreds of people's votes should not have been processed.
"How can you tell me that? Have you watched Twitter?" responded Judge Gloria Sturman. "There are – in the internet vernacular – trolls who could get this information and harass people who just want to help their fellow citizens vote."
She added: "Why would I order them to make available to you information about people that work at polls when it's not already a requirement to do so, so that those people can be harassed for doing their civic duty?"
The testy exchange served as an appetizer for an eager – and anxious – public on election day, thanks in no small part to the proceedings being livecast and the feed being widely broadcast – ironically enough – on Twitter.
As the judge shot down Trump's representative on point after point, Twitter erupted in excited live commentary.
Closing time
The lawsuit [PDF] was brought after four early voting sites in Nevada on Friday saw record numbers of voters – most of them Latino – turn up, leading to long lines. The polling station was scheduled to close at 7:00pm but stayed open until 10:00pm, with anyone in the line at 7:00pm allowed to stay and vote.
The chairman of the Republican party in Nevada, Michael McDonald, later addressed a crowd and argued that the stations had been kept open later so a "certain group" could vote.
It is widely expected that the vast majority of Latinos will vote for Hillary Clinton and against Donald Trump, due to a series of controversial comments Trump has made during the election season about Mexicans and immigrants. Nevada may also prove to be a key state in deciding the result of the presidential campaign, since it is one of roughly 10 states that could swing either Democrat or Republican. Nevada carries six electoral votes and could prove critical.
The rhetoric over the polling stations' late closing was then fanned by Donald Trump himself at a rally. "It's being reported that certain key Democratic polling locations in Clark County were kept open for hours and hours beyond closing time to bus and bring democratic voters in," he told a crowd. "Folks, it's a rigged system. It's a rigged system and we're going to beat it. We're going to beat it."
That bombast was quickly shot down by Judge Sturman, however. Asked that the votes from the voting station data be kept separate from other votes, she told Hardy on Tuesday morning that that was already the law, adding: "I can't obligate [the Registrar of Voters] to do something he is already obligated to do ... This is Election Day. He has other things to be doing."
Offensive
When the lawyers asked that the polling data be preserved – in other words, the number of votes and for which candidate – the judge was not amused. "That's offensive to me, because it seems to me to go against the principle that the vote is secret," she noted.
She also criticized the campaign for scheduling a judicial hearing before they had taken the issue up with the state administration.
The Clinton campaign was, naturally, delighted with the judge's decision: "We're pleased the judge swiftly denied what was a frivolous attempt to disenfranchise voters in Clark County and a desperate response to the record turnout we're seeing in Nevada and across the country," said a spokesperson.
In short, the exchange served as a microcosm of what has been a fraught and at times extremely unpleasant election campaign. The Trump campaign's willingness to play to and at times encourage racial divisions has spurred what some say will prove to be record voter turnouts.
Claims that the election may also somehow be rigged – many emanating from Trump himself – alongside reports of organized voter suppression efforts, have further raised tensions.
In that respect, seeing a judge with the authority to shut down such efforts – if only in Clark Country, Nevada – has proved to be a tonic to many who have grown tired of months of aggressive posturing.
Perhaps surprisingly, Judge Sturman has not yet become her own meme. But then the night is young and there are still 12 hours to go at the time of writing before the results of the election will be known. ®