UK spying law delayed while Lords demand Leveson amendments
Press-bashing grants paranoiacs extra week to prepare for Snoopers' Charter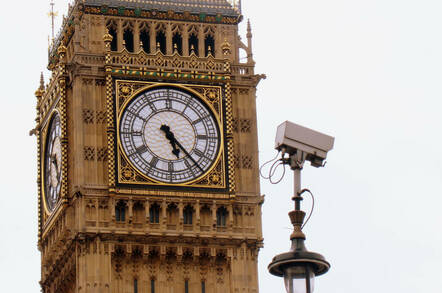 IPBill The UK's Investigatory Powers Bill will not receive royal assent for at least another week as the Houses of Parliament disagree on an amendment regarding the regulation of the press.
Despite widespread concerns, the bill – popularly known as the Snoopers' Charter – finished its passage through the House of Lords last week, but is now being batted back and forth between the Lords and the Commons over a controversial amendment that would coerce the press into joining a government-approved regulator.
Put forward by Baroness Hollins, a cross-bench peer, the amendment attempts to force into law a controversial power that would force publications into joining state-backed regulators or face punitive terms when taken to court.
The argument regards a legal power resulting from the Leveson Inquiry, which has not yet been "commenced" by the government – section 40 of the Crime and Courts Act. This coerces "publishers of news-related material" into "voluntarily" submitting to regulatory bodies approved by the state, or when taken to court be forced to pay claimants' costs, even if the court determines that the publisher was innocent.
Baroness Hollins' amendment seeks to incorporate this coercion into the Investigatory Powers Bill's provisions in clause 8, which covers civil liability in court cases regarding the illegal interception of communications.
Hollins told the House of Lords that the government had failed to commence section 40 in breach of a cross-party agreement to do so after the first state-approved regulator, Impress, was officially recognised the week before. As this power had not been activated, Hollins explained that she was introducing the amendment "to ensure that costs protections will apply to new claims alleging illegal phone or email hacking by newspapers".
While the government lost this vote in the House of Lords, the updated version was rejected when it returned to the House of Commons. Labour, which had previously abstained on the bill, imposed a three-line whip on its MPs to vote in favour of the amendment.
The government's majority in the Commons rejected the amendment on the grounds that "it would not be appropriate to make such provision in relation to claims under clause 8 while consideration is being given to commencing section 40 of the Crime and Courts Act 2013".
Little else in the bill was debated and it was sent back to the House of Lords, which again supported the inclusion of Hollins' amendment. Due to the week-long recess beginning 8 November, the bill will not be debated in the Commons again until Tuesday, 15 November. ®
Sponsored: Detecting cyber attacks as a small to medium business