RIP EarthLink, 1994–2016: From AOL killer to regional ISP's attic
Windstream absorbs brand for $1.1bn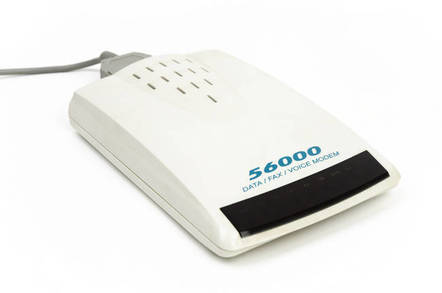 Turn-of-the-millennium internet giant EarthLink has been acquired and will be absorbed into the brand of a regional US ISP.
Windstream Holdings said that it will gobble EarthLink in an all-stock transaction that includes assuming $436m of the former dial-up giant's debt. Upon closing, EarthLink employees and executives will join Windstream and operate under its brand.
"We are pleased to join forces with a company that shares our core values and operating philosophies, and whose strategy complements our own," said EarthLink CEO Joe Eazor.
"We've both made significant progress, as evidenced by our improving financial results and strengthening balance sheets. Now is the right time for us to come together."
Founded in 1994, EarthLink saw its peak as an ISP between 1999 and 2001 – as users tired of the walled-garden approach of many early ISPs opted for the EarthLink dial-up internet services.
That success never carried over to broadband services, however, and as telcos began to drop the costs of their cable and DSL services, EarthLink saw its subscriber numbers fall. By 2007, was forced to make deep cuts in order to stay afloat.
In subsequent years, the company looked to remake itself and move its focus into new areas, including home VoIP and professional IT services. Now, like AOL, it will see its run end by being absorbed into another telco.
At its height in 1999, EarthLink stock peaked at $51. The Windstream acquisition values the stock at $5.92 per share and will pay EarthLink shareholders a total of $673m in new Windstream stock (0.818 share of Windstream common stock for each EarthLink share owned).
EarthLink's board will be combined with Windstream's, while Tony Thomas will retain his Windstream CEO title. The fate of EarthLink's exec team was not given, but Windstream says the EarthLink brass will "join the combined company to bring best-in-class talent and ensure a smooth integration."
Once the deal closes, Windstream says it will be able to expand its network reach to around 145,000 miles of fiber cable serving primarily the northeast and southeast portions of the US home and business markets. The acquiring company also says that by taking in EarthLink's facilities and hardware it will be able to reduce its own operating costs and add revenues to the tune of about $50m in the first year alone.
"The combination with EarthLink further advances Windstream's strategy by creating a stronger, more competitive business to serve our customers, while increasing free cash flow and reducing leverage," Thomas said.
"With this transaction, we are combining two highly complementary organizations with closely aligned operating strategies and business unit structures."
The deal is expected to close in the first half of 2017. People with EarthLink accounts should not see any disruption or change to their services, we're told. ®
Got any memories of EarthLink? Let us know in the comments below.