Look out, SpaceX et al – China's Long March-5 rocket blasts off
Successful launch takes payload into orbit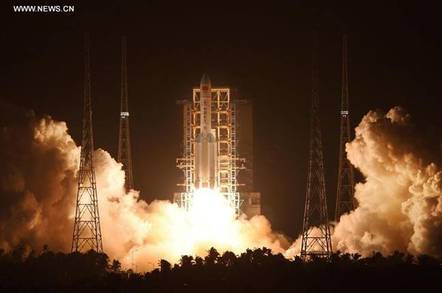 Pic China has successfully launched its first Long March-5 rocket, a heavy lifter that is going to be pivotal to the Middle Kingdom's ambitions for a space industry of its own.
The rocket lifted off from the Wenchang Space Launch Center in south China's Hainan Province at 2043 local time, Thursday, and delivered its payload into orbit 30 minutes later. Officials said the rocket performed perfectly after a two-hour delay in launching for some final debugging.
"It was normal preparation work to ensure a successful first launch," Tian Yulong, chief engineer on the project told state media.
The 57-metre rocket produces 1,060 tonnes of thrust and is capable of delivering 25 tonnes of payload into low-Earth orbit, and 14 tonnes up to geostationary transfer orbit. It uses eight liquid oxygen/kerosene rocket engines in four strap-on boosters – two engines in the first stage and two smaller engines in the second stage.
All of this gives the rocket a noticeably fatter appearance than previous Long March rockets, but that translates into a thrust package that almost equals that of SpaceX's Falcon rocket line. Lou Luliang, deputy designer-in-chief for the State Administration of Science, Technology and Industry for National Defence, said that the design was necessary to carry heavier payloads.
"It is not just a simple enlargement of the diameter, it raised new requirements of materials, manufacturing and equipment," he said, adding that components from the new rocket would be retrofitted to other Long March hardware to upgrade their capabilities.
The new rocket will be used to send a probe to the Moon next year, he said, and to lift up the 20-tonne main section for China's forthcoming space station. It will also carry China's first Mars probe, scheduled for 2021.
However, China's rocketeers aren't resting on their laurels. Engineers are already designing a rocket capable of lofting 100 tonnes into orbit before 2030, Yulong said, which would put it on a par with NASA's proposed Space Launch System, if that ever gets off the ground. ®