What should the Red Arrows' new aircraft be?
Speek your branes, sky-gazers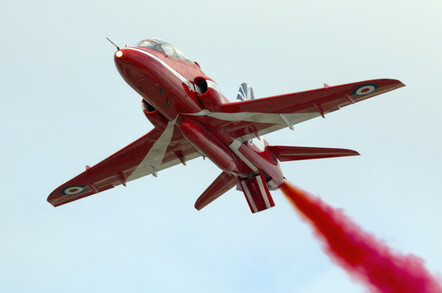 Poll The Red Arrows aerobatic team will get new aircraft when their ageing Hawk T1s finally give up the ghost, the British Ministry of Defence said Tuesday. What should replace the Hawks, though?
The venerable jet has been the mainstay of the Reds' fleet since 1979, wowing crowds at air shows around the world with their nail-biting aerial displays.
The BBC breathlessly told us that the Reds were due to get new aircraft, quoting Defence Secretary Sir Michael Fallon as saying: "Eventually we will have to replace the aircraft, and we will start to think about that in the next year or two."
Although the replacement is not imminent, it has got some of Vulture Central's finest minds pondering. What should Britain's most influential military unit of all time be flying, come 2020?
The sensible answer is that it'll be the Hawk T2, which is more or less identical to the Hawk T1 but has a glass cockpit that very closely resembles the Eurofighter Typhoon, rather than the analogue gauges of the T1's instrument panel.
Aviation wags have suggested that the RAF's Typhoon 1s, which are gathering dust in hangars across the land, could simply be painted red instead.
But there's a whole world of aviation out there. Why confine the Reds to the Hawk when you could, say, give the Battle of Britain Memorial Flight's crews a rest and paint their Spitfires red for a season? How about resurrecting ten Concordes and throwing those around the sky instead? Or you could go really left-field and equip the Reds with the recently redundant Sea King helicopters used by the RAF's search-and-rescue squadrons. The Yellow Whirlybirds Display Team – you heard it here first...
There's a poll below for your delight and delectation, and naturally we welcome the usual level of suggestions in the comments. Particularly good ones will be added as poll options, so have at it. ®
Poll closes on Friday, if we remember to shut it. You win nothing except the satisfaction of tapping your keyboard by entering. Terms and conditions don't apply – making those up involves actual work. Your statutory right to oxygen may not be affected by Brexit.