Facebook chokes off car insurance slurp because – get this – it has privacy concerns
Do as we say, not as we do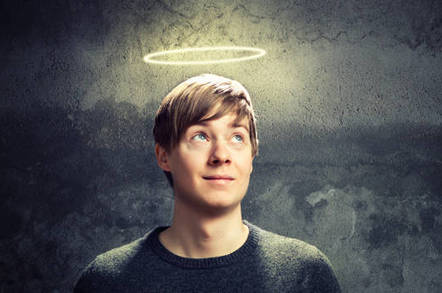 Facebook has shut down efforts by a car insurance company to use posts on the social network to decide discounts – over privacy concerns. No, honestly.
The "firstcarquote" service was launched by UK-based Admiral on Wednesday and is intended to offer new drivers the ability to save money on their insurance by downloading an app and allowing the company to review their social media posts.
The insurer then runs a risk assessment based on the posts, using a range of measures from figuring out how organized they are (lower risk) to textual analysis pointing to overconfidence (higher risk), and so on. The lower the risk, the greater the discount offered.
Within hours of the launch however, Facebook announced it would not allow the app to access people's posts, citing privacy concerns.
"Protecting the privacy of the people on Facebook is of utmost importance to us," said a spokesperson with a straight face. "We have clear guidelines that prevent information being obtained from Facebook from being used to make decisions about eligibility."
The statement went on: "We have made sure anyone using this app is protected by our guidelines and that no Facebook user data is used to assess their eligibility. Facebook accounts will only be used for login and verification purposes. Our understanding is that Admiral will then ask users who sign up to answer questions which will be used to assess their eligibility."
Facebook's concern over its users' privacy will come as a surprise to many, given the web giant's long history of playing around with privacy settings, not to mention the fact that its entire business model is based on getting people to share as much information about themselves as possible so that their details can be used to offer targeted advertising to third parties.
Free choice?
There is also a case to be made that Admiral's efforts are legitimate while Facebook's decision to effectively strangle the service is self-serving, and a sign that the company does not so much wish to protect its users as to protect its exclusive access to the valuable information it receives from them.
The "firstcarquote" service is specifically for drivers who do not have a driving record, therefore insurance companies have very little information to work from in deciding what level of risk they present – and hence what premium to charge.
If a first-time driver can grant access to their posts to get a quote and then compare it to other insurance quotes, then so long as the company is transparent about what it will do – which it has been – you could argue it was a user's right to grant whatever access they feel is in their own interests.
If someone gets a lower quote, they could argue they are providing evidence to prove they are a comparatively safer driver. If they don't, they can simply delete the app and its access to their account.
Car insurance companies run similar assessments on all their customers, from their zip code – to assess likelihood of car crime – to where a car is stored (on the street or in a garage) to your age, how long you have been driving, the age and power of your car, and so on.
The industry is also constantly trying to find ways to further refine its risk assessment – often crossing societal boundaries, particularly when it comes to supplying personal information.
Changes
Admiral confirmed that the service was a test product to see whether its assumptions about risk based on people's posts correlated with risky driving behavior, and it wasn't sure whether people would be willing to provide the information.
The big difference from similar arguments in the past, however, is that in place of the authorities who occasionally step in and tell insurance companies that they cannot insist on certain information before offering a quote, in this case it is Facebook that is assuming the role of gatekeeper. And Facebook has access to and control of that information – which it uses to directly profit from.
The issue is only going to grow larger, as the market in wearables such as smart watches expands and companies have access to potentially valuable information about activity and exercise.
It is also entirely conceivable that Facebook could launch its own insurance business couched in glowing terms, but effectively doing the same thing as the service it just closed down. Maybe Admiral's mistake was not to figure out a way to give Facebook a cut of the money. ®
Sponsored: Beyond the Data Frontier