LaCie flings out super-glam desktop Bolter drive
With 'I just casually chucked this here' magnetic stand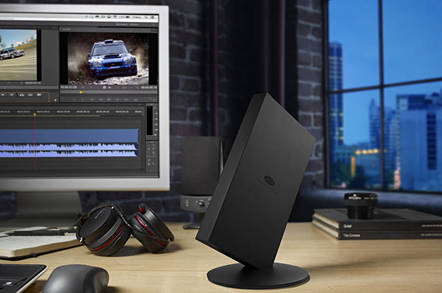 Seagate's LaCie unit has announced three Neil Poulton-designed Thunderbolt 3 desktop storage boxes, one being a flash drive moving data at up to 2.8GB/sec.
LaCie is announcing:
Bolt3 combining Thunderbolt 3 speed and M.2 PCIe SSDs to create the world's fastest desktop drive,
12big Thunderbolt 3 with up to 120TB of Seagate 10TB 7,200rpm drives and up to 2,600MB/sec speed,
Six-bay 6big with up to 60TB, Thunderbolt 3 and speeds up to 1,400MB/sec.
The Bolt3 is an aluminium case with two 1TB M.2 format SSDs inside. These are striped into a 2TB volume, with bandwidth of up to 2,800MB/sec. A stand docks the product with neodymium magnets, and the drive detaches for transport. LaCie claims video editors can transfer a terabyte of 4K ProRes 4444 XQ footage from the Bolt3 to the 12big Thunderbolt 3 in only 5 minutes and 11 seconds.
LaCie says Thunderbolt 3 means a user can daisy-chain dual 4K displays – one for a timeline and the other for footage preview – or a single 5K display to its 12big or 6big arrays.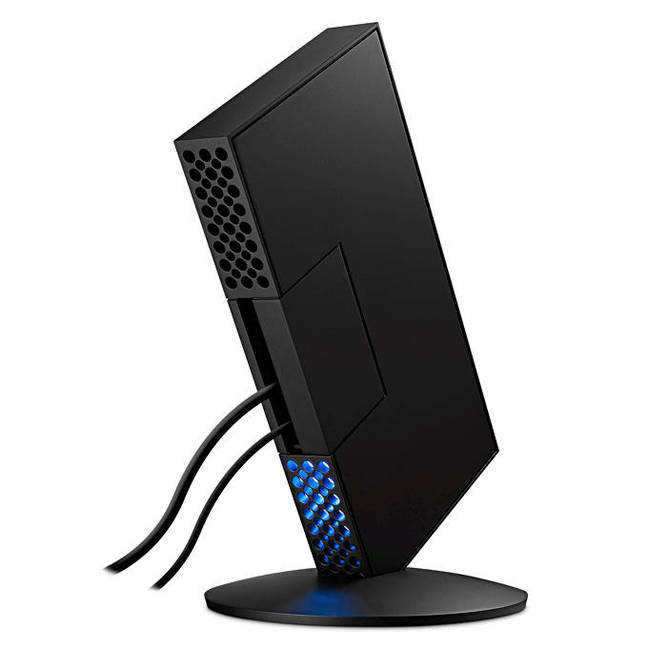 LaCie Bolt
The 12big Thunderbolt desktop tower 12-drive stack supports Thunderbolt 3 running at 40Gbit/s. It was previewed at 2016 National Association of Broadcasters Show.
The desktop 5big 5-bay box supported Thunderbolt 2 when it was given a capacity upgrade from 30TB to 40TB in February. Think of the 6big as a 5big plus an extra drive bay.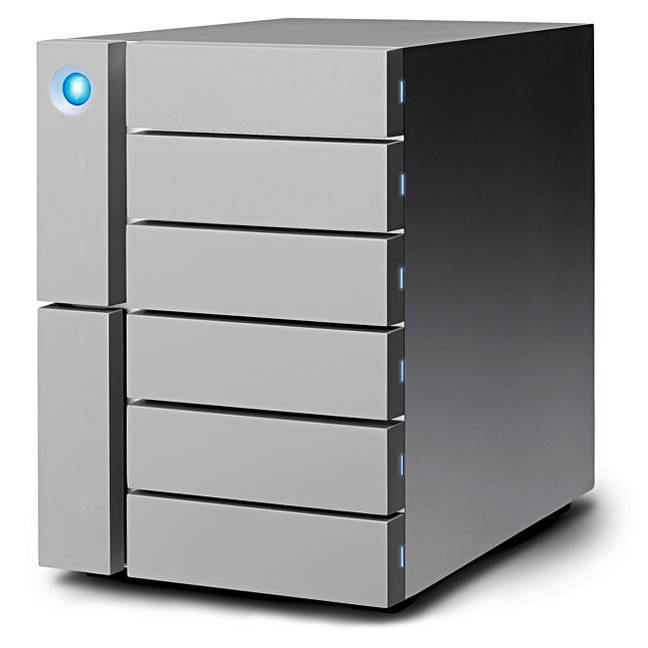 LaCie
LaCie says video editors will relish the storage speed these devices provide when they work on post-production workflows, such as ingesting RAW footage from RED or Blackmagic cinema cameras or transcoding 4/5/6K footage using Adobe Premiere Pro or DaVinci Resolve.
Thunderbolt 3 is expected to give way to USB-C which supports the Thunderbolt port. However USB-C is bedevilled with inadequate standardisation for compatibility. You have to be careful when selecting cables.
The 12big and 6big have a five-year limited warranty that covers drives, enclosure and spare parts. Get a Bolt datasheet here (pdf) and ones for the 6big and 12big here.
The 2TB Bolt3 will cost $1,999.00. The 6big will come in 24TB, 36TB, 48TB and 60TB capacities starting at $3,199.00. The 12big will come in 48TB, 72TB, 96TB and 120TB capacities starting at $6,399.00. Insulated transport Peli cases for the 12big and 6big start at $349. The Bolt 3, 6big, 12big and Peli cases will be available fro LaCie resellers this quarter. ®
Sponsored: Becoming a Pragmatic Security Leader