SpaceX to explosion conspiracy theorists: There's no grassy knoll at Cape Canaveral
Investigation replicates cryogenic helium #FAIL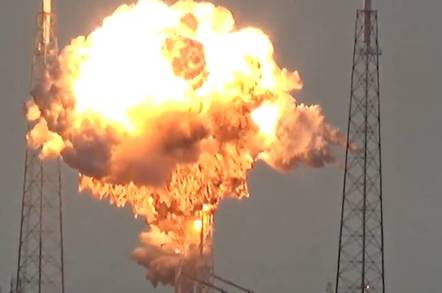 Video Conspiracy theorists can stop looking for a grassy knoll near SpaceX's Cape Canaveral launch complex: the company reckons it's close to explaining why its September launch failed so spectacularly.
The explosion destroyed a Falcon 9 rocket, roughly US$200 million of Facebook satellite payload, and extensively damaged the launch pad.
On Friday, SpaceX published this update about the subsequent investigation.
The statement confirms previous suspicions that there was a breach in the cryogenic helium system of the stage two liquid oxygen (LOX) tank, with a focus on one of the three "composite overwrapped pressure vessels (COPVs)" in the LOX tank.
The statement says: "Through extensive testing in Texas, SpaceX has shown that it can re-create a COPV failure entirely through helium loading conditions. These conditions are mainly affected by the temperature and pressure of the helium being loaded."
From here, the joint investigation with the Federal Aviation Administration, the US Air Force, NASA, and industry experts will focus on identifying the root cause, and improving the helium loading processes. ®
Sponsored: What next after Netezza?