Surprise, surprise: AWS is making boatloads of money for Amazon
Also sky blue, oceans wet, Bezos rich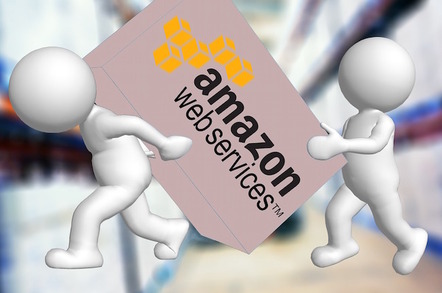 Amazon Web Services continue to contribute handsomely to the bottom line of its parent company, as the cloud compute outfit saw sales top $3.2bn.
The AWS numbers helped to counter an otherwise disappointing quarter for the online retail giant.
For Q3 2016, AWS logged:
Revenues of $3.23bn were up 55 per cent from $2.09bn in the year-ago quarter.
Operating income of $861m was more than double the $428m in Q3 2015.
For the full nine months of the fiscal year so far, AWS has logged $8.68bn in sales, compared to $5.47 in 2015, and its operating income sits at $2.18bn.
Amazon as a whole, meanwhile, turned in less encouraging results for shareholders:
Amazon's revenues (net sales) of $32.7bn were up 29 per cent from a $25.4bn haul for last year's quarter.
Net income of $252m was up from $79m a year ago and was the sixth straight profitable quarter for Amazon.
Though up, the returns fell short of analyst expectations, as company earnings per share (non-GAAP) of $0.52 were well short of analyst estimates of $0.78.
The earnings miss caused Amazon shares to drop more than five per cent in after hours trading to $769.85 per share.
Among the highlights Amazon chose for the quarter was its deal with VMware for cloud hosting and the plans to launch new facilities to host instances in the UK, France, and Canada.
Meanwhile, CEO Jeff Bezos overlooked his cloudy cash cow and instead used the occasion to hype up Amazon's retail services, particularly its new Alexa virtual assistant.
"Alexa may be Amazon's most loved invention yet – literally – with over 250,000 marriage proposals from customers and counting," said Bezos.
"And she's just getting better. Because Alexa's brain is in the cloud, we can easily and continuously add to her capabilities and make her more useful – wait until you see some of the surprises the team is working on now." ®
Sponsored: Detecting cyber attacks as a small to medium business