Scale-up SSDs buck the scale-out trend
Daisy-chaining for scale-up SATA SSDs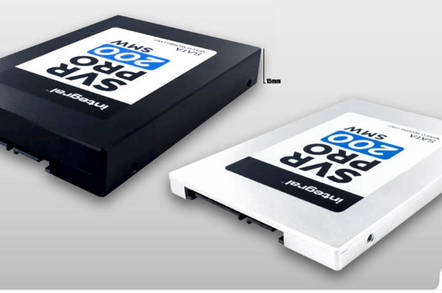 Well, this is unfashionable: UK-based Integral Memory and Korean Flash storage provider Novachips have co-produced a SVR-PRO SATA III SSD suited for scale-up use.
This 2.5in form factor drive has a daisy-ring architecture that is claimed to unfreeze the capacity restrictions of conventional parallel configurations. As each HyperLink MLC NAND (HLNAND) Flash is connected directly to the next device in the loop, effectively each unit of flash is driving a single load, allowing an unlimited number of devices per channel.
Samik Halai, senior product manager at Integral Memory, said in a canned quote: "This breakthrough makes 'scaling-up' data centres an appealing alternative to 'scaling-out' across expensive extra floor-space."
Capacities go up to 8TB and there are two models:
Integral SVR-PRO SATA SSD 100-SRI geared for performance-hungry applications and has balanced low latency and read and write IOPS, suited for video on demand, streaming, web server and file server usage
SVR-PRO SATA SSD 200-SMW is an endurance-optimised design for servers that constantly perform mixed workload tasks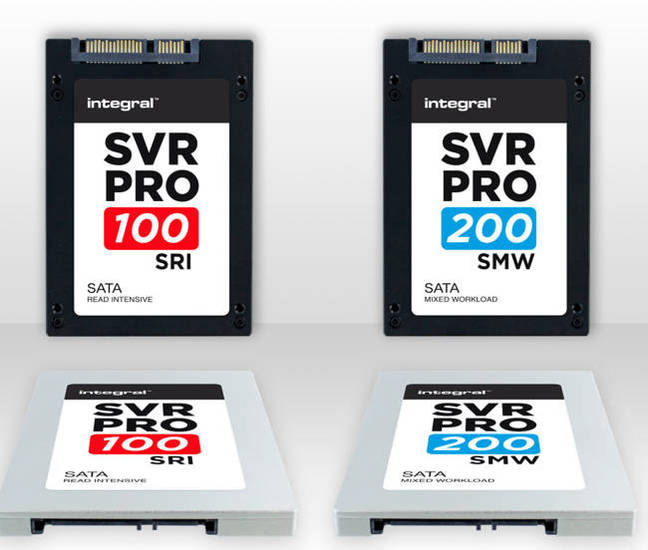 The SATA interconnect runs at 6Gbps. Both drives use a single-chip Novachips controller with eight channels of HLNAND Flash internally, and come with a five-year warranty.
The 100-SRI comes in 4TB (7mm thick) and 8TB (15mm thick) versions. The sequential read/write performance is up 551MBps and 517MBps respectively. Random read/write IOPS are up to 52,000 and 78,000. It has an up to 2,000 TBW rating at the 8TB capacity level.
The 200-SMW has capacities of 3.2TB (7mm thick) and 6.4TB (15mm thick). The sequential read/write performance is up 551MBps and 518MBps respectively. Random read/write IOPS are up to 53,000 and 78,000.
The 6.4TB model delivers up to 11,680 TBW (3.3TB - 5,840 TBW), with Integral claiming it to be the highest-endurance SSD available.
Both the 100-SRI and 200-SMW have sufficient capacitors to ensure that the last write before a power fail is written to NAND.
Contact Integral for availability and pricing here. ®