Samsung ties Thread into two new IoT Artik chips
It's goodbye Artik 1 and hello Artik 7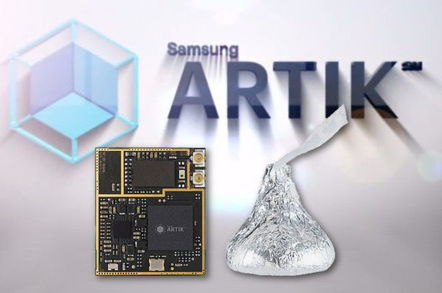 Samsung has expanded and updated its IoT hardware with the release of the low-end Artik 0 and high-end Artik 7 modules – both of which support the Thread protocol for the first time.
The Artik 0 is aimed at the very smallest IoT devices and will replace the Artik 1, which was launched in April last year. The Artik 7 will sit between the 5 and 10 and provide high-end capabilities, but at a lower cost than the 10.
Critically, the two modules represent a whole-hearted embrace of the Google-backed Thread protocol, which the ad giant open sourced back in May and whose most significant benefit over other IoT networking protocols is that it has native internet protocol (IP) support.
There will in fact be two Artik 0s – one that will work with Bluetooth (the 020) and one that will work with ZigBee or Thread (the 030). They will be, according to Samsung's US head of Artik James Stansberry, "extremely low power," making them ideally suited for sensors and small IoT devices. They will cost "sub $3" and have 32KB of RAM and 256KB of Flash with Cortex-M CPUs.
The Artik 7 is a "second generation" version of the module family and offers high performance at lower cost, Stansberry told us. It is Linux-based and contains an ARM Cortex-A53 chip, 3D graphics accelerator, 1GB DDR3 and 4GB eMMC.
At the same time as the two (well, three) new modules, Samsung also announced improvements to the rest of its Artik ecosystem, including improved device management – individual devices can be selected and updated – improved security, and expanded integration with other IoT products and protocols.
In addition to putting its weight behind Thread – while maintaining support for ZigBee as a "legacy" platform – Samsung has come out in full support of IoTivity.
That may not be a huge surprise, since Samsung, Qualcomm and Intel, through the Open Connectivity Foundation (OCF) (previously the Open Interconnect Consortium), are backers of the technology. And since in August, the Thread Group said it would work with the OCF. But it may also point to a much-needed coalescing of the IoT industry around a set of open standards.
That said, the IoT standard craziness may not yet be over. Even as Samsung comes out with its new Artik modules, Stansberry told us that the company was carefully watching the upcoming Bluetooth 5.0 and that he was "kind of excited" about its possibilities.
And he refused to rule out Z-Wave either, which recently announced it would open up too in the face of competition. Z-Wave is favored by some companies for its stability, thanks to what has been up until now a tightly controlled certification process, and the fact that it uses a lower frequency and so can propagate data further.
"It feels like mobile phones in 2007," notes Stansberry, referring to the battle over standards just before the market really took off. The IoT standards war is far from over, but this Artik release is a sign that the market has started swinging in one direction. ®
Sponsored: Becoming a Pragmatic Security Leader