Hammer hopes to nail software-defined future for Commvault
Adds analytics + biz process automation as losses narrow
Commvault has software-defined storage and business process automation in its future, as it announces a $600,000 net loss on revenues of $156.3m in its latest quarter. The firm is hoping this sets it up for a sustained turnaround.
This was the second quarter in its fiscal 2017, and it ended on September 30. The revenues were 13 per cent higher than a year ago and 5 per more than the preceding quarter.
The GAAP net loss was not as bad as the prior quarter's $2m and much better than the year-ago quarter's $9.2m net loss.
Software revenue for the quarter was $70.5m, up 22 per cent year-on-year. Services revenues in the quarter were $88.9m, 7 per cent higher y-o-y, and flat on a sequential basis.
Bob Hammer, Commvault's chairman, president and CEO said the revenue increase was "driven by a significant increase in the number of enterprise revenue transactions across all of our geographic regions," Commvault seeing several $1m+ deals, and there was "continued growth of our sales funnels," suggesting growth will continue.
The firm claimed the sales funnel was at a "record" level.
Some 450 new customers were added during the quarter, about the same as last quarter. These included Dow Jones & Company, Equinix Brazil, Saudi Telecom, the U.S. Department of Justice (DEA) and Department of the Interior (Bureau of Land Management).
Hammer said in the earnings call: "Our cloud-stored data in petabytes more than doubled in the first nine months of the year." That's calendar 2016.
He said: "At the 100,000-foot level, the major driver of our business is large enterprises as they move to the cloud." But "we have also established good growth in the mid-market with our stand-alone solutions."
In fact, if the third quarter continues its momentum, then Commvault could move into making a net profit. However it is still adding to its sales and marketing headcount so costs are rising.
Commvault has a "long-term objective of sustainable double-digit revenue and earnings growth."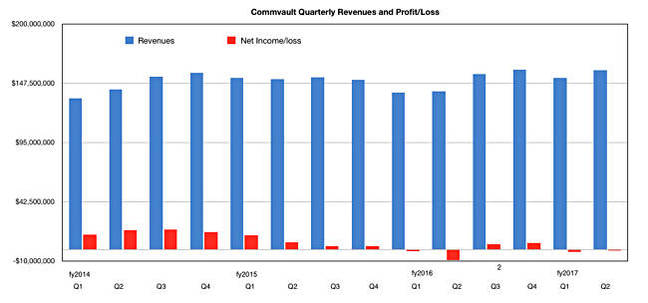 Commvault's quarterly revenues and net income to Q2 fy2017.
During the quarter, there were no borrowings against the revolving credit facility or repurchases of Commvault's shares, with $93.1 million available under the share repurchase program that currently expires on March 31, 2017.
Stifel MD Aaron Rakers writes: "Commvault reported data managed into public cloud (on a petabyte basis) increased by 2x for the first 9 months of C2016; we estimate similar growth on a revenue basis with cloud-driven revenue now >20 per cent of software license revenue. The public cloud predominantly means Amazon and Azure, with Google building up steam."
He says sales productivity has improved and sales headcount attrition decreased. Commvault's partnering looks to the point, including "key next-gen storage / hyper-converged solutions providers such as Nutanix, Pure Storage, Nimble, and Cisco (e.g., expecting HyperFlex integration over the coming months)." It is also strengthening its partnership with Huawei. Cisco and Huawei are classed as strategic partners.
Commvault expects third quarter revenues to be higher than this latest quarter, but didn't supply a numeric range. Rakers thinks it could be as high as $162.9m, meaning up around 5 per cent y-o-y.
Future products
Hammer said: "We [will] deliver a a larger number of new products and enter into new market segments." He mentioned "major enhancements to the Commvault Data Platform for managing data to the cloud, in the cloud and cloud-to-cloud for use cases such as applications management, dev test and disaster recovery. "
For example: "New capabilities will enable a customer to automatically migrate a database and application copies into the cloud and then launch them in the cloud at the push of a button for dev test purposes. This includes fully automated, properly configured and secured cloud services, spin-up of the application and secured delivery of synchronised data."
Our near-term plans are to accelerate growth in our core, large enterprise data management business, core federated cloud data management, backup, archive, compliance, mobile, file sync and share; move into other cloud-related standalone data management use cases for both the enterprise and mid-market with best-of-breed solutions for disaster recovery and applications management, including dev test; establish a strong position in big data markets with a unique software-defined storage solution that provides comprehensive Software Defined Data Services for big data and digital content; and, lastly, establish a stronger position in the healthcare vertical.
Software-defined storage
The software-defined storage idea was given more colour; it being "for use cases like big data analytics and digital repositories for digital content like image files and genomics. We have expanded our core platform architecture with an embedded software-defined capability to automate and manage the storage of data in web scale IT environments."
The move into big data analytics was presaged here.
Hammer said: "We can offer customers the ability to quickly and automatically deploy new scale-out storage infrastructures, which use low cost, open, industry-standard servers and these infrastructures." This will combine the Commvault Data Platform's index knowledge of the data with the management of the backend storage infrastructure.
This software-defined capability can be used to archive and manage data in large Hadoop clusters, or digital content like police body camera footage. He mentioned a three-server node configuration being set up in less than 30 minutes.
Referring to the big data use case and talking about a virtual repository, Commvault COO Al Bunte said "We figured out how to move the data at about 20 times as fast as we currently do and then opening it up, we can serve it back versus restore it back."
He said a Web-based UI will be customised for specific vertical markets. Commvault says this will free organisations from vendor lock-in, and drive lower cost and higher utilisation than legacy approaches.
What's next?
"Our longer-term plans include expanding market opportunities to high value-add monetisation opportunities in the value creation side of the data business, such as analytics and business process automation, and expanding our cloud-based managed service business and our cloud-delivered SaaS solutions. These products were recently introduced and have received very positive initial feedback," said Hammer.
"We expect to expand the capabilities of the Commvault Data Platform and be in market with a leading business analytics and business process automation platform in the second half of FY 2018." There will be a "content-based platform for business analytics and business process automation."
Comment
Commvault is effectively becoming a secondary storage silo converger. Hammer said as much in the earnings call; "Companies [need] to have a holistic strategy to manage their data, a strategy best implemented using a data platform. This platform-centric approach allows customers to manage and understand all their data with a common management and operations framework, a single common indexing capability and a single open, virtual repository for all their data."
And that holistic platform is the Commvault Data Platform, which used to be called Sympana.
The addition of software-defined storage for Hadoop and surveillance camera footage workloads will give Commvault a product vehicle that could move it into other areas. The company is morphing into a bigger beast in front of our eyes as it heads towards the billion dollar a year revenue number. ®