Stung by Azure and AWS cost shock? Penny-pinchers love them some OpenStack
'Spotlight' on the money in a post-cloud-hype world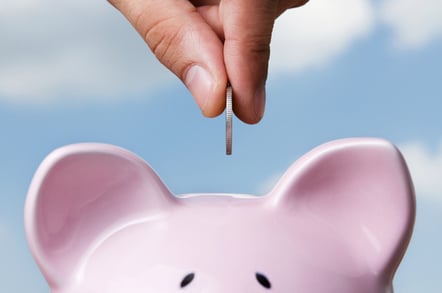 The cost and expense of AWS and Azure is helping drive cloud hopefuls to OpenStack, the organisation has said.
Jonathan Bryce, OpenStack executive director, told El Reg ahead of this week's conference in Barcelona: "The number-one business driver for open-source cloud is cost."
According to Bryce, organisations are using Amazon's AWS as a convenient way to get started on cloud thanks to its capacity and ability to spin servers up and down.
"But there really is a cost disadvantaged to that," Bryce said. "Within three to four months of building on OpenStack you can recoup the capital expense and the operating expense is much lower."
Microsoft is increasing its sterling prices for Azure UK customers by 22 per cent, it says, to make up the pound's tumble in value since Britain's vote to leave the European Union in June.
Microsoft blamed "sustained currency changes" that produced "price misalignment" of the Brit pound. Sterling is at a three-decade low against the dollar and a six-year low against the Euro.
Amazon claims to have reduced AWS prices 52 times since 2006 but has announced a budget calculator to help customers control spend, setting up alerts as they approach their budget's limit.
Bryce claimed to know of several companies that had started on AWS in the development phase, but pulled production workloads on to OpenStack.
He cited Tapjoy, which started as an AWS customer but has since phased in OpenStack, having decided that AWS wouldn't be "cost-effective over the long term."
Among the benefits, Tapjoy claims to have experienced a 5-10 per cent capacity and cost gain over remaining solely with AWS.
Organisations are increasingly over the must-do hype phase of cloud, and attention is now turning to price and cost.
Bryce reckons "a large spotlight" is being shone on these.
"For a while public cloud was hyped but now people are asking to see how their dollars are being spent while private clouds are easier than they were five years ago," he said.
The price and cost of OpenStack versus proprietary such as AWS and Azure is something OpenStack will be discussing at the Barcelona conference.
OpenStack is currently in use on 15 public clouds but is also being used in private clouds – organisations running their own.
The received notion of cloud is it's cheaper – and more flexible – than buying and owning your servers and software.
But the expenses are hidden as the costs move from IT to the business – those consuming the services rather than providing them.
Costs increase as more data is generated and is stored in vendors' clouds and also as organisations use more features beyond the basic cloud compute or storage.
Bryce cautioned this isn't an either/or debate of private OpenStack versus the public cloud represented by AWS or Microsoft's Azure, just that private cloud is growing and not all new workloads are going to the public side.
"I don't look at the market as divided between public and provide cloud," Bryce said. "I don't see it as a race to slow down public cloud. A lot of OpenStack customers are AWS and Azure users, so it's a mix of technologies. It's like having technology from NetApp and Cisco." ®
Sponsored: Becoming a Pragmatic Security Leader