2016 has been a garbage fire. But 2017's looking up – there'll be loads of IPOs, beams Intel
Head of chip giant's VC arm bullish about exits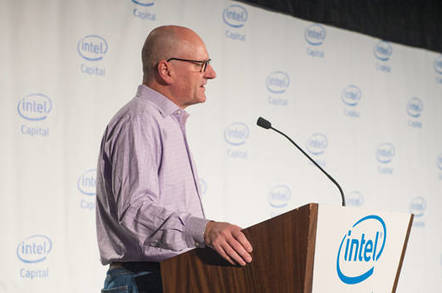 Pretty much everyone can agree that 2016 has been awful all round, but hey here's something we can look forward come January 1: 2017 is going to be the year of new tech IPOs, according to the CEO of Intel's venture capital arm.
Giving the keynote at the Intel Capital Global Summit in San Diego, Wendell Brooks was bullish about what the new year will bring, arguing that the "backlog is building" of tech companies that want to access public markets.
He put the sluggish 2016 market – where fewer tech IPOs than any time in the past decade took place – down to two factors: a shake-out of the privately valued "unicorns" and fears brought about by the US election cycle.
"Some of the private unicorns have come back down to earth," Brooks noted, pointing out that now there are roughly 150 tech companies valued at over $1bn, as opposed to around 175 a year ago.
And despite big market upsets like the Brexit decision by the UK and the Chinese re-evaluation last year, he noted that the equity market was "resilient and stable."
Brooks shared some stats about Intel Capital's investments in 2016 compared to the previous year. So far, it has made just 31 deals, compared to 63 in 2015; but it is in line to spend more – $446m so far, compared to $514m in 2015 overall. As for exits, there were just 22 in 2016, compared to 26 in 2015, and just two of them were from IPOs.
Those stats highlighted what Brooks said would be a different approach from Intel Capital going forward: more money spent but in fewer deals. And with a 50-50 split between investing in new companies and putting more into companies already in Intel's "portfolio."
Where we're going
As for the next few years of tech and tech investment, Brooks highlighted four main areas: drones; automated driving; "new experiences" – largely VR; and "verticals."
During the presentation, a number of demonstrations highlighted new virtual reality technologies – and in particular live-streamed VR, often tied into sports. There was a lot of technical work to be done to build up the VR ecosystem, Brooks noted, and it was still in its infancy but the possibilities were enormous.
Both high-end and low-end systems were demoed. The high-end Voke camera system captures everything at extremely high quality and could see use at big sports events, whereas the lower-end Altia Systems camera setup offers panoramic 4K video with real-time stitching of images for as little as $2,000.
Brooks also spoke enthusiastically about the "drone economy," where drones can be used for a range of things from industrial inspections of everything from wind farms to oil rigs to bridges and planes, to logistics, to things like search and rescue – where 100 or 1,000 drones could be used to search an area quickly and efficiently. He even proposed that drones could be used to carry mobile phone base stations at times of high demand, then removed when demand lifted.
As just one example of how drones may save businesses money and time, Brooks said that an oil rig inspection that could take as long as eight weeks using traditional methods could take as little as two days when done with drones.
But getting back to the IPO market, Brooks put up a slide highlighting the five things companies needed in order to profit from the "return of the traditional growth market" that he foresees in 2017: a large market opportunity; unique business model; barriers to entry; a credible management team; and a business model that is scalable.
"You don't necessarily need the best tech," he noted. "What you need is a scalable model." ®