Intel throws the ball long with sports, VR and IoT cash injections
Chip giant puts $38m into next generation of digital tech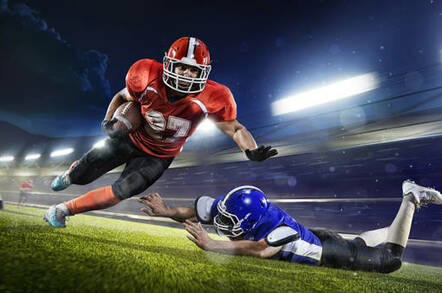 Intel has launched a new group to cozy up to pro-sports, aimed at working with the major leagues to introduce the next wave of technology from virtual reality to data analytics, tracking and image capture.
The new Intel Sports Group was announced Monday by Wendell Brooks, president of Intel's venture capital arm, Intel Capital – alongside a raft of investments in 12 companies amounting to $38m.
Some of those companies will be directly involved in the "digitization" of sport, something that Intel CEO Brian Krzanich said would amount to "the biggest change in sports in decades."
Key in that shift is the hot topic of virtual reality. Among the investments Intel has made – typically as the lead investor in a round of funding – are:
A number of companies working on image capture, including super-fast video as well as 3D and VR.
A company specializing in 3D audio.
Several wireless sensing and analytics companies.
Chronocam, based in Paris, works from the fact that the human eye tends to only store information, or at least focus its attention, where there is movement. By doing the same, the company hopes to be able to create new vision sensors and systems that provide a more human visual experience than current systems – and one that works much faster.
The result could be the ability to experience the visceral rush of, for example, scoring a touchdown, without it feeling like a simulation or lacking sufficient clarity or resolution.
Dysonics is doing for hearing what VR cameras are doing for vision. The company demoed its multi-direction microphone (with eight mics in a 360-degree container) and software that allows sound to move about as you move your head. The end result is that it can put you at an event, especially a live one, in a way that is more realistic and hence more engaging than anything currently available.
"Audio is roughly 50 per cent of your experience at a live event," argued its CEO Robert Dalton Jr. "When it comes to 360-degree content [ie, VR], that can be 60, 70 even 80 per cent of your experience."
At the other end, CubeWorks unveiled tiny sensors – tiny enough to be placed under your skin – that can sense everything from movement to pressure. Grand Chip Microelectronics (aka Kangxi Communication Technologies) is working on a next-generation wireless tech that will provide longer range as well as faster and cheaper data transfer. And Kinduct offers data and analytics software for sports organizations (as well as health, public safety and military) that provides insights into how to improve and understand performance and movement.
Taken together, all these new technologies have the ability to capture and recreate physical events in a way that could bring the user closer than ever to having the experience of sitting courtside during a real basketball match, or eventually even racing down the touchline on the way to winning the Superbowl – live as it happens.
"This has the ability to fundamentally change user experience in the world," said Brooks. As to why Intel is interested in getting involved in all these emerging technologies, Brooks – an avid sports fan – pointed out that every one of these devices would be tied back to the data center and to the cloud.
Intel Capital has typically invested the same amount of money, but in double the number of companies. Brooks, who has been at the company less than a year, said he hopes to invest more in fewer companies as a way to "add value on a different vector."
Or in other words, make specific things happen faster with greater payoff. This year, the bulk of that approach appears to be in the brave new world of immersive entertainment. ®