EMC moves into Dell house: Where'd I put the spoons?
Check the Org chart, will you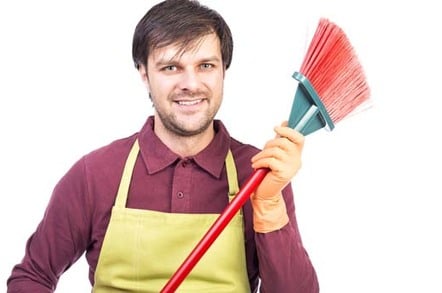 Comment We've learnt how the EMC organisation has been fitted into its new Dell house, at least at a top exec and product level, and here is an org chart set to show what we believe we know.
At the top is Dell Technologies, and that's split into seven product area entities. Dell Client Solutions is the notebook and PC business unit. Every other business unit (BU) but one has an EMC angle - Dell EMC, Pivotal, RSA, SecureWorks - the non-EMC BU, Virtustream and VMware. Our interest here is in having a closer look at the Dell EMC side of the organisation.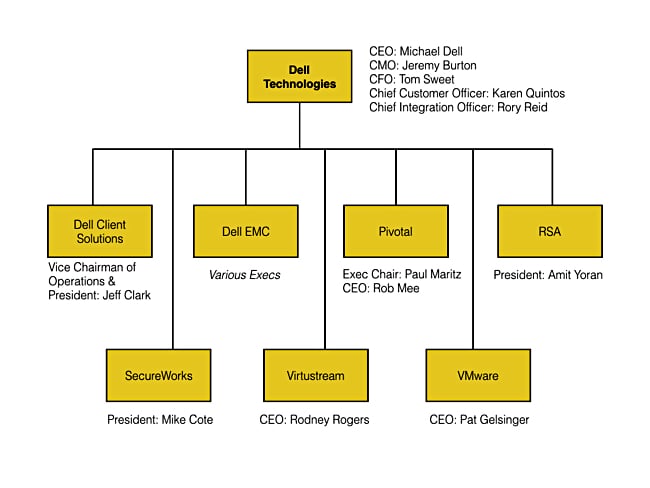 We'll do a first-level drill down into that organisation to reveal six BUs or divisions: Server division, Dell Software, Core Technologies, Converged Platforms and Solutions, Networking, and the Emerging Technology Division.
The Software, Networking and Server Division are originally Dell BUs folded into the new Dell EMC organisation. There is no single executive running Dell EMC as at the top level we have three presidents:
President and chief commercial officer Marius Haas
President of infrastructure solutions group David Goulden
President of enterprise sales Bill Scannell
In our view, David Goulden is probably the operational head of the division, coming from being CEO of EMC's Infrastructure group - the core EMC storage business - putting Goulden on a par with Pat Gelsinger as VMware CEO, since both reported in to Joe Tucci. Now both report to Michael Dell.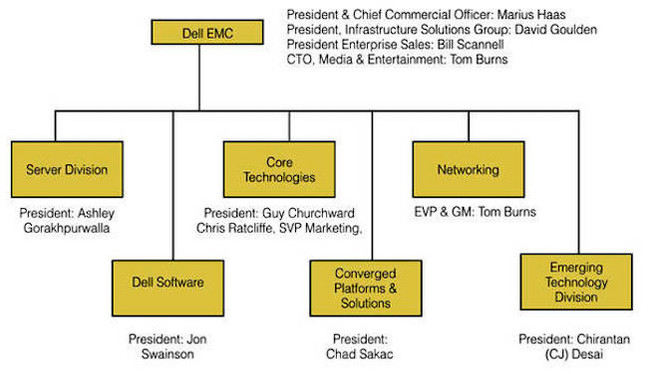 Drilling down again, let's look at the EMC-derived parts of this structure. Here is the Converged Platforms group run by the irrepressible Virtual Geek, Chad Sakac.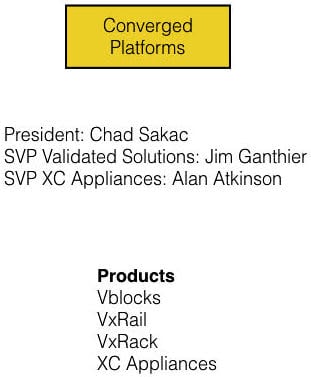 For joining Dell execs, like Alan Atkinson, it's going to be an interesting learning curve, especially as the VSAN and ScaleIO-using VxRail and VxRack people have been competing heavily against Nutanix in the hyper-converged space. But, hey, these people have now been converged themselves and Sakac should ensure they bed down well together.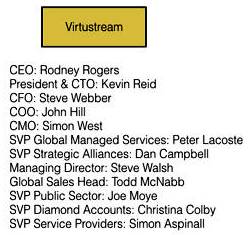 The Virtustream Group is awash with SVPs, five of them, with four CxO execs. This is a business full of chiefs and staffed up for growth we think.
The revenue heart of the old EMC business, the Core Technologies division, has had ViPR added to its product set. We have five SVPs in our list. The CTO side has an overall CTO, Stephen Manley, and then major product line CTOs, such as XtremIO's Itzik Reich, who coincidentally is the only one we know right now.
Twelve products are listed - there are probably others - and this is the revenue core of EMC's storage products.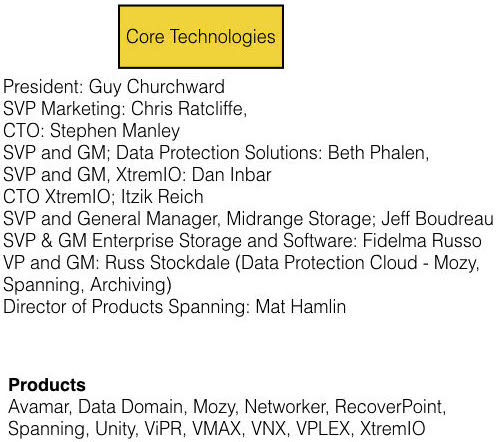 Core Technologies also has the old Dell storage gear, the PS (EqualLogic) iSCSI array, and the SC (Compellent) Fibre Channel SAN array.
We understand that the Dell PowerVault storage products and the right Scality RING object storage are now in Ashley Gorakhpurwalla's Server unit.
Next up is CJ Desai's Emerging Technology Division with, hopefully, Dell EMC's future product stars being nurtured and grown. Here we see DSSD, ECS and ScaleIO, and also, oddly in our view until Wednesday, Isilon. What was this good but relatively mature (we thought) product doing in Emerging Technologies? It had already emerged three or more years ago and was surely better placed in the Core Technologies Unit.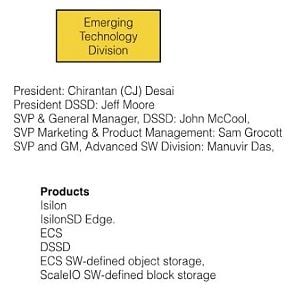 But then came the Isilon All-Flash announcement and we understood. Here was a product destined for the same market as Pure Storage's most definitely emerging FlashBlade - faster access to bulk unstructured data.
DSSD is doing well and there are apparently 50 customers who have bought, engaged in POCs or are talking seriously to EMC about a purchase.
Converged Systems is going to be interfacing to most of the other groups, needing to source and integrate servers, storage hardware and storage software (VMware's VSAN etc) and networking hardware/software as a base.
The Dell-based server and networking groups are surely going to be in learning curve territory as they take board the EMC culture. There is going to be a reciprocal effect as the EMC side of this condominium learns what it takes to make servers and networking gear, stuff that has been learned over the years by the Dell folks, particularly the server crew, representing accumulated wisdom that needs to be cherished.
It will take time and effort to bond these two groups, with a willingness on both sides and careful, consistent management effort. Think of the glass being half full already and everybody's efforts being focussed on filling it. ®