Uni students float into Hyperloop finals with levitating prototype
Magnetic tech gives 14-foot-long tube a tiny lift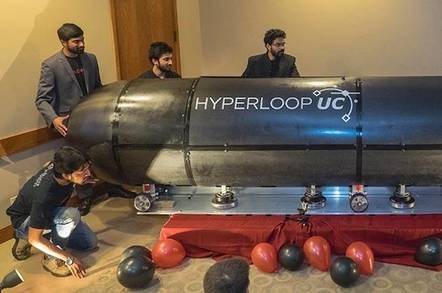 A team of students from the University of Cincinnati has passed through to the final round of Elon Musk's Hyperloop challenge by demonstrating the magnetic levitation of hover engines.
A loud whirring sound was emitted on October 17 as the 14-foot-long Hyperloop prototype floated above the ground by a quarter of an inch.
The idea is to create a fast transport system carrying passengers from Los Angeles to San Francisco in 35 minutes. Magnetic levitating shuttles would be able to travel at around 700 MPH with minimal friction and air resistance, Musk claimed.
Here's a video of the uni's machine levitating slightly so it can roll on out:
Hyperloop is a registered trademark of Musk's aerospace company, SpaceX. The technology is open sourced, giving external developers a chance at building it – including Hyperloop One, the company in the midst of a legal battle with its former employees.
Spurred on by Musk's challenge, UC aerospace engineering student Dhaval Shiyani assembled a team of students from interdisciplinary fields to build a Hyperloop prototype.
Shiyani's team is one of 30 that have made it to the final round of Musk's open challenge. The finalists will test their prototypes over a one-mile track, next to the headquarters of SpaceX, at the end of January.
"We are very proud of the design we have created," said Shiyani, Hyperloop UC's president. "It hits all the marks with respect to performance, safety and scalability." ®