Microsoft reveals career-enhancing .PNG files
'Digital Badges' will tell the world you drank Redmond's certification=credibility Kool Aid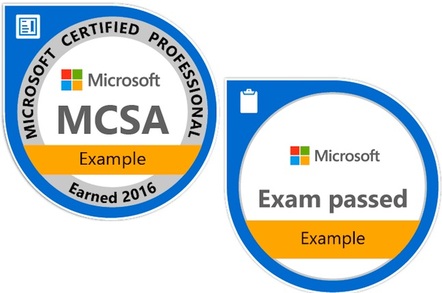 Microsoft's ongoing efforts to make its certifications something that shows bosses how very clever you are have given us some new "Digital Badges".
As of this Friday, those of you holding a Redmondian Seal of Exam Passing Cleverness will be able to download badges like those depicted above (here for those of you on mobile devices) so the world can appreciate your exam-passing excellence.
Microsoft learning's general manager Alison Cunard reckons the badges "allow you to easily share details about your skills attainment in a trusted and verifiable way."
That's because each badge will allow those who "select it to learn more about your skills and to verify its authenticity." We think that means it's clickable and leads clickers to some kind of authoritative source describing your attainments, and therefore not something that the mischievous could abuse to claim certs they don't hold. Unless of course you see a badge, do Save As and then apply a little link text mischief.
It's not all fluff: Cunard says Microsoft's working with Pearson VUE to offer "industry and employment data to all badge holders, so you have access to relevant job opportunities and can find out which employers are looking for individuals with your specific skills."
Microsoft lists the exams and certs eligible for badges here. They'll be available as of October 21st. ®
Bootnote: The original badges are .PNGs. For some reason your correspondent converted them to .JPGs.