Whinge on: T-Mobile US docked $48m for limiting 'unlimited' data plans
Telco coughs up cash to make throttling complaints go away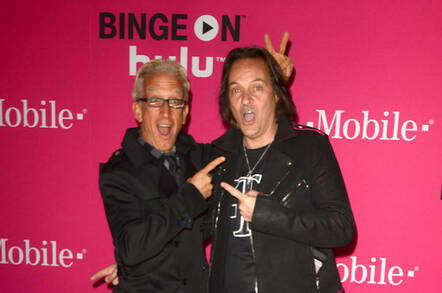 T-Mobile US has agreed to pay the US comms watchdog the FCC $48m to settle claims that it illegally throttled the connections of some unlimited-plan data users.
The settlement package [PDF] ends an investigation the US broadband watchdog launched over T‑Mobile's handling of customers on its unlimited data plans.
At issue was the carrier's policy of deliberately limiting connections for customers when they had passed a certain limit of data usage, in order to prevent them from slowing network speeds for other customers.
The FCC had found that T‑Mobile had not adequately explained this policy to users when selling them on the "unlimited" plans. Customers were misled into believing there would be no limits. This would have been a violation of the FCC's Transparency Rule requiring clear disclosure of plan details.
T-Mobile US is not alone in this practice. The FCC has taken similar measures to clamp down on other US mobile carriers who failed to live up to their word when promising unlimited data.
"Consumers should not have to guess whether so-called 'unlimited' data plans contain key restrictions, like speed constraints, data caps, and other material limitations," said Travis LeBlanc, chief of the FCC's enforcement bureau.
"When broadband providers are accurate, honest and upfront in their ads and disclosures, consumers aren't surprised and they get what they've paid for."
In addition to paying the $48m, T-Mobile will agree to follow a set of rules around the way it advertises and describes its plans – basically, the carrier has to be honest and upfront to subscribers about what "unlimited" really means.
The settlement also requires $35.5m of that package be returned to subscribers in the form of discounts on accessories and – for customers on Simple Choice MINT or MetroPCS Tablet unlimited plans – 4GB of data credit.
In return, T-Mobile will not have to admit to any wrongdoing and, should it follow the terms of the settlement, will not be subject to any further investigation or action from the FCC.
A spokesperson for T-Mobile US told El Reg it has already implemented the needed changes: the carrier updated its policies in 2015 amid a row brewing over the stretching of the word "unlimited." ®
Sponsored: Detecting cyber attacks as a small to medium business