Oracle: We're going to be the practical AI people, we swear it
Big Red says it wants to integrate intelligence into existing apps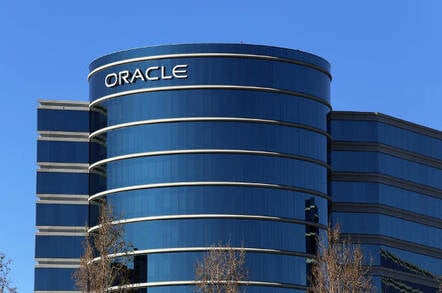 Oracle, like so many other enterprise IT specialists, is talking up plans to integrate machine learning into its software.
What the Redwood City giant hopes will set it apart from competitors is the way it plans to use those features. Where rivals have been touting AI and machine learning as a way to overhaul and redefine platforms, Oracle hopes that its Adaptive Intelligence features will instead complement its other cloud compute offerings.
Introduced last month at the annual OpenWorld conference in San Francisco, Adaptive Intelligence will look to tie machine learning into Oracle's cloud to make features more personalized and better suited for individual companies.
Part of Oracle's approach is based on the availability of data it has to feed into the machine learning system.
Jack Berkowitz, vice president of products and data science for Oracle's Adaptive Intelligence program, told The Register that he sees the Adaptive Intelligence platform benefiting from the mountains of enterprise data Oracle and its customers have amassed over the years.
This, in turn, will help to make the Adaptive Intelligence tools useful from the get-go, something Oracle sees as a key selling point.
"What we are not building is a platform in hopes of finding use cases," Berkowitz explained.
"What we are doing is finding specific applications that are designed to plug into and expand existing capabilities."
The highly targeted approach is where Oracle is trying to distance itself from competitors who are offering larger, less-focused machine learning and AI features in hopes that buyers will be interested in shaping those tools for their own ends.
Oracle, on the other hand, wants to offer a more-focused set of features and services, with the belief that customers would rather have the Adaptive Intelligence tools ready to integrate with their other applications.
"If you look at what AWS and Microsoft and IBM have done, they have exposed a lot of APIs," Berkowitz says of his competitors.
"To sit at a blank canvas and look at APIs and say 'I am going to build an application' is a challenge."
The approach is not entirely unlike what SaaS cloud rival Salesforce has done with its Einstein platform, integrating the machine learning tools into existing applications in hopes of easing skeptical customers into the transition process.
Should that process pay off, both companies could find themselves with a significant advantage in keeping and enticing new customers for machine learning-based systems going forward. If it fails, however, Oracle could once again find itself having to make up ground on rivals, a process Big Red knows the pains of all too well. ®
Sponsored: Minds Mastering Machines - Call for papers now open