Cisco president: We've lost to AWS et al on the public cloud
But by god we're developing some niches. Starting with shoe-based analytics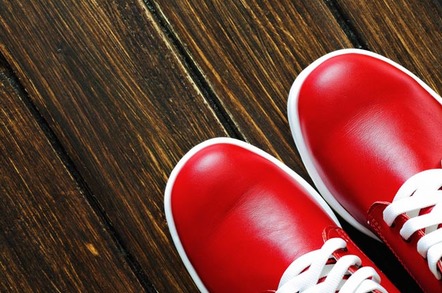 Canalys Channels Forum 2016 Cisco may have conceded defeat to Amazon in the mass market for public cloud consumption, but there are a raft of niche areas that are ripe for the plucking, starting with, er, footwear.
The vendor's European, Middle East, Africa and Russia president Edwin Paalvast told an audience of resellers and distributors at the Canalys Channel Forum that they needed to find niches.
"No doubt they [AWS] have won in mass startup [markets] like very big data applications. They are the norm and can't be beaten any more," he admitted.
Building a public cloud to compete with the likes of AWS isn't something Cisco has tried to do, its sells services that can run on those monster clouds, but it has seen some data centre business shift off-premise.
Cisco is working with Hoxton Analytics, a start-up that emerged from its UK innovation centre, that has the tech to let stores record and monitor video footage of people's shoes as they walk into an outlet.
"So if you enter a shop it will actually look at you; it will see whether you are alone, it will see how you walk, the type of shoe you have," an excited Paalvast boasted.
This isn't your bog standard data feed, it's "high definition… because you need really high definition". Of course it does - think of the feet.
This data can't be sent to the cloud because of the delays in analytics crunching. As luck would have it, the feed can be stored locally and the data disseminated on some Cisco kit. Phew!
"We can actually do the analytics to predict what people might be doing in the shop, [if] they are returning, [if] they've been there 15 minutes before, so you can actually send a sales agent."
Paalvast said privacy hardliners should not be concerned as "shoes are hardly a privacy issue".
He is clearly a man paid to explore all use cases to prevent more customers from buying into the AWS, Microsoft and Google messages. "There are so many applications," he said.
Paalvast said that starting next year, every new car manufacturers for use in the European Union will need to come fitted with a black box that can communicate with the road.
"You can get data on where there is ice on the road. The car can even be [forced] to brake. The road will brake it. Imagine the amount of data that is being processed and collected on that road, that is massive, but you can't have the delay of [having the data go] to the public cloud," he said.
This sounds more promising than shoe-based analytics but hey, who are we to tell Cisco where its priorities should lie? ®