T-Mobile and AT&T halt all Galaxy Note 7 sales
This fire is out of control ...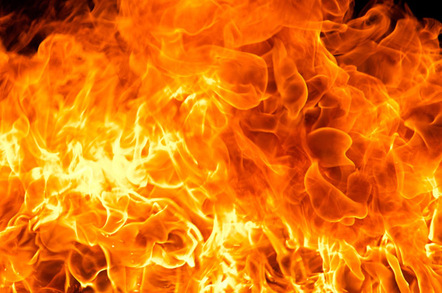 US mobile carriers T-Mobile US and AT&T have decided the Samsung Galaxy Note 7 is too great a risk and have stopped shipping replacements for the phirebug phablet.
T-Mobile took to the web on Sunday afternoon with a statement in which it said "While Samsung investigates multiple reports of issues, T-Mobile is temporarily suspending all sales of the new Note7 and exchanges for replacement Note7 devices."
"Customers can still bring their recalled Note7 or the new replacement Note7, along with accessories they purchased from T-Mobile, to a T-Mobile store for a full refund and choose from any device in T-Mobile's inventory. We'll waive any restocking charges, and customers who purchased during pre-order can keep the free Netflix subscription and Gear Fit or SD card they received."
Earlier in the weekend AT&T notified newswires like Bloomberg over the weekend, saying "we're no longer exchanging new Note 7s at this time, pending further investigation of these reported incidents."
The email, from AT&T spokesman Fletcher Cook, says Note 7 customers can exchange Note 7s for "another Samsung smartphone or other smartphone of their choice."
The carriers' decisions will throw Samsung's global Note 7 recall into disarray. It comes just five days after the first complaint that a replacement unit had caught fire on a Southwest Airlines flight.
Airlines had already banned the flammable Sammy from being switched on during flight.
Investors have already punished Samsung for the failed phablet's rollout-and-recall, but recovered last week when investor activist Elliott Management said the company was undervalued and called for the chaebol to be broken up (for example, reported by Market Watch).
With two of the USA's top carriers now deciding the Note 7 is too dangerous to sell, more pain awaits.
At least Samsung isn't completely alone: late last week, ABC30 reported a Fresno woman's complaint that an iPhone 6 had caught fire while charging in her bedroom. ®
Sponsored: Becoming a Pragmatic Security Leader